First let me start by saying I am still a novice at cakes!!

My bride brought me this image and I can't figure out what the swirls are made off. At first I thought they were piped on, but look at the top swirl - it sits above the cake. Is that some type of icing that is piped in a swirl, dried and then stuck on the cake?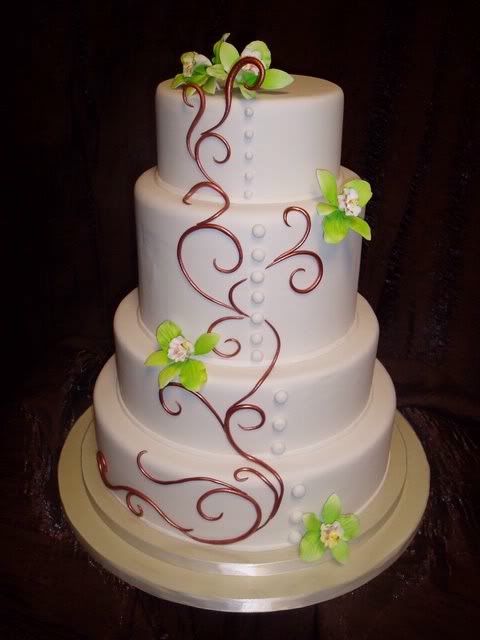 I'm definitely no expert, but could that be royal icing that was piped onto wax paper, left to harden and then attached to the cake? Anyone else have ideas??
I agree its probably Royal Icing.
I would guess that it's fondant.
I dont know what it is but that is a beautiful cake! I love the offset dots on the front. Good luck with it and be sure to post pics of your interpretation.
I think it's fondant. The swirls look as though they have shimmer dust painted on them. I would make fondant swirls but use 50/50 fondant and gumpaste for the one that stands up off the top of the cake. That way you can still mold the others into the corners but the gumpaste one will dry hard and stand up. Good luck! Post pix when you've finished!
I also think fondant/gumpaste the simmery look looks to painted on and it would be hard to get that even of a paint job on royal icing.
i think it is extruded fondant that has been painted.
Noticed that all but the top swirl is thin, the top swirl is thicker. So, having said that, I believe that all the swirls are fondant but the top swirl is gumpaste (dried). Making them all off the cake is just about the only way you could be able to dust them first - before placing them on the cake. some go over the edges (hard - if not impossible to do with dried royal). Also, if made of royal, they would need to dry on a slightly curves form to match the curve of the cake.
I would also say its fondant because of the way it drapes from one layer to the other...
Thanks, everyone! I didn't even think of fondant...duh! That just made my life a little easier as I am SO not good at the piping stuff!