Hi all, I'm a newbie and I'm kind of new to the cake making thing too, I desperately need someones help!!

I've just baked a Madeira cake - it's for a child's birthday party tomorrow afternoon (and it's 11:30pm here!). It's the first time I've made Madeira cake (I usually opt for choc mud cake). I've cut it in half to buttercream it and I'm not sure whether it's actually cooked properly - it kind of looks like a crumpet and seems a little greasy. it's a 6" and I baked it for roughly an hour and 5 minutes, before I took it out I checked it with a fork and no crumbs came out, though it did seem greasy.

Please could you take a look and tell me what you think - Im totally panicking!!! The little v shaped cut is from me, prodding it!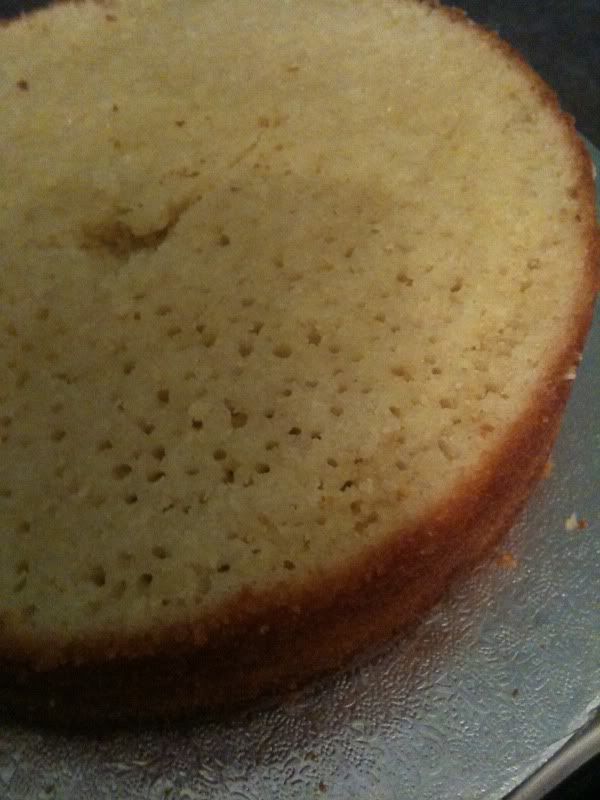 Thank you SO much for your help

Kerry x
im sorry , i can't offer help here . ive never seen this before . i'm sure someone else can jump in though. good luck x
Well I'm no madeira expert by any means but a little tunneling never hurt anything--go for it--it's kinda late to redo it tonight.

Going forward for next time, give yourself 2 or 3 times as much time as you think you'll need just for instances like this.

You mighta measured something a wee bit off--how did it taste? The flavor I mean --the icing will mask the oilyness.
What I mean is the fact that you're new at this will also help mask any slight issues of oilyness too.
i've had issues with my cakes "tunnelling" like this before. my problem was that i left my mixer running while i chased my kid outta the kitchen. maybe over beating the batter before baking? just a thought. not sure tho, cause i'm still new to this as well. maybe someone else will have a better explanation.
1.If you could post the recipe you used we can also help you see if something was off for next time's sake cos you are going to have to use what you have already baked cos there's no time to re-bake.
2. Atimes this happens when you've used too much baking powder.
3. Always remember to tap your batter-flled pan on your counter top before putting it in the oven, this helps to discharge air pockets or bubbles in the batter formed during mixing which then form tunnels if you don't tap lightly.
4.Welcome to CC, you are going to love it and beware- its soooo ADDICTIVE!!!
but you'll be a better caker for it!
Thanks guys - I really appreciate your help! I've never heard of tunneling before - does this mean it's still ok?

I'm gonna use the cake and bake up a choc cake for them to use should the cake be inedible. Luckily my 5 year old daughter is invited to the party, so I'll be able to keep it in the car and explain the situation to the host.

I've barely slept all night, worrying about it! Lol.

Just for future reference - how long in advance can I make a Madeira and a normal sponge cake? I know that I safely have a couple of days with a mud cake, but was unsure with this one, which is why I left it so late to make it (lessons learnt!)

Thanks again! :hugs:
I agree it looks like you had loads of air in the mix. as for the greasy feeling did you use butter? That sometimes leave the cake feeling oily.
A madera cake should be good for 3-4 days for decorating and another 7 days for the customer to eat it in. but that time frame might alter for different countries depending on the temperature.
Was your batter a bit thick? Or did it pour easily into the pan?
Being in the US I usually use boxed mixes and when I see holes (tunneling) in a cake like your pic, it usually means the batter was thick. Just add a bit more liquid until it pours out of the bowl. HTH
The batter didn't seem too thick - I think that maybe I beat it too much and maybe I added too much butter?

My daughter brought some home from the party and it was an oily disgusting mess! L :shamefaced: I've made a chocolate cake and I'll give it to the hostess on Monday - all of the guests are in the same class at school, so I'll ask her to give them each a slice (this is the start of my customer base, I can't have them thinking that this is my usual standard!!)

Well, it may have been a mess on the inside, but I was pretty happy with the decorating... Wanna see?!


Well the outside was lovely! Great job decorating.
That use to happen to me until before I put the batter in the oven I banged the pan with the batter in it on the counter to get all the air bubbles out. It never happens anymore...might wanna try that?
It was super cute on the outside.