Okay, so I have no clue where to even start with thsi one!
My cousin is turning 16 and would like this for her sweet 16 cake (change of colors though). The design looks fairly simple, so I'm sure I can do it...it doesn't look tapered except for the top layer.. Here are my questions:

What sizes does this look like to you? I've asked if she wants all 4 tiers, I am not certain she will have that many guests.

What would you charge. I know I'm not going to charge her full price, but since I have to drive 10 hrs to get there to make, they are going to pay something for it! I just want a ball park figure that way I can tell them what it would cost, but then give them the option to pay for the ingredients or pay for my gas...not sure which would be cheaper at this point...haha.

Thanks for the help. Sorry the picture stinks. Looks like she took it with her camera phone.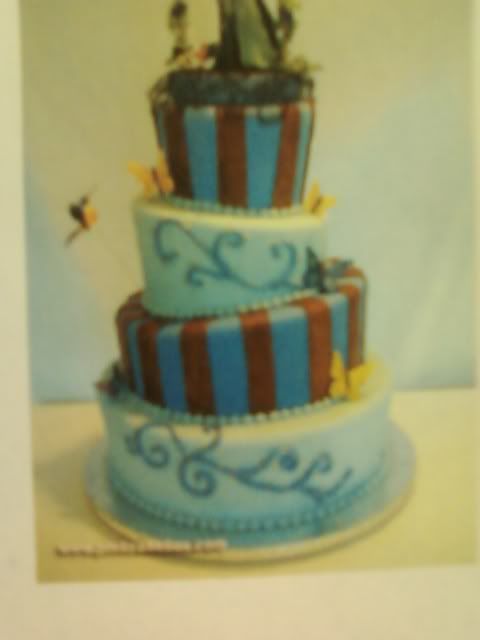 Not to sure, but unless shes having one of those sweet 16 parties like they do on MTV, Id say that would be WAY to much cake.

The ingredients are probably going to cost you more than gas will.

CAN YOU BELEIVE I PAID ALMOST $10 FOR A GALLON OF VEG. OIL TODAY!!!!???!!!!

GEEZ!
This looks like a 6"/8"/10"/12" to me. As for what to charge (since she's your cousin and you're not charging full price), I'd say charge for ingredients rather than gas. I agree that it'll cost more than gas.

10 HOURS?! Good luck and have fun!!!
Hi 1st find out how many servings she will need how many expected, then charge by the slice no less then 2.00 a serving being on the low end. Consider your time and how much you spend for supplies. You can go to the Wilton web page for serving chart or I think I seen a chart here on cc not sure where exactly. Hope this is helpful...
Rather than figure out how many this cake serves.. find out how many people she'll have there and draw up something similar that will fit what she needs. This will save you some work and them some money. It's probably a 6-8-10-12 which is over 100 servings. I'd charge $500 for it. Be sure that you let them know what it would cost for someone walking in off the street and give the discount you want. I'm guessing she's only going to have 20 ppl max.. in that case I'd make it a 4-6-8 to make 35 servings and charge $210 ($6/serving for the carving involved) .. then they would have not much more cake than they need and still a nice tiered look. The Moroccan cake in my pics is a 4-6-8 and it was for a sweet 16 party too no less..
. It's small yet still proportional.
I'd make it look like the top three tiers.. it's more interesting with the stripes. HTH's a bit.
Thank you all for your input! It really helped. I too figure I'll need to get a headcount before we start figuring on sizes, but think I was a little shocked when I saw how bit it was when she emailed it to me!
Apparently it's an all out bash for her, so I have a feeling she'll be inviting people that she barely knows to have it be MTV-ish...haha. I will DEFINITELY give them the regular price... I want them to know what's involved on my end, and somehow I have a feeling they have NO clue! (Although I just made a cake for a cousin on my other side and they knew I started it weeks in advance!).

JKalman, I really likeyour Moroccan cake! Very pretty and it doesn't even look like the sizes you mentioned! You're right, they do still look evened out.


Keyshia
Thank you so much for your kind words about my cake. I delivered it in a snow storm to boot.. LOL. I pulled it out of the car and the girl (who was taking thier little dog out to go the bathroom) saw it and said "WHOA!!" That's the best payment there.

Good luck with your venture.. I can't wait to see the cake!
Ahhh...Kalman-It is ALWAYS a joy to view your gallery (and its not the 1.5 bottles of Champagne I'e had tonight talking!)

I am making that cake (the one photo'd above from PinkCakeBox.com) for 100 guests-the bride is just into Corpse Bride. I was able to find the toppers for about $40.00 that she bought and am charging her about $600.00 for that cake-but that includes fillings, delivery and set-up and tax and ALL that good stuff.

Good luck with it, it should be a fun cake to make!