What can I do to modeling chocolate that is to soft? I have used CMC powder, corn starch. I also mixed it with half red fondant and pink modeling
chocolate. I have a cake due tomorrow!!!
Thanks,
Theresa
Ok, modeling chocolate....It is still chocolate, you handle it too much, it gets soft and greasy. First and more important, be sure you used the right recipe, otherwise the matter will never set! No matter what... it needs to rest at least 12 hours to consolidate the emulsion and hence the mechanical properties of the material. CMC will be of little use, it absorbs water in order to set... modeling chocolate is a sticky mess made out of fat, sugar and veeeeery little moisture.... same with cornstarch... you will get a lovely crumbly mess at the end. Adding fondant will totally transform the way chocolate modeling works, since they are two very different things...making thins more complicated at the end.
Work in short sessions, keep your hands cold and when thigs start getting a little soft, stop and put your work and tools in the fridge, your hands under cold water and your mind to rest!
The last sculpture I made took me a week to take it to completion.

stunning work, reggie! well done -- love it -- really strikes a chord
Thanks Boss, it was really inspiring and painful to realize the many wounds Our Lord was willing to endure... out of pure love!
That was for a Bible Cake collaboration, my first collaboration ever... it was worth every simple second I put into it!
Here is another view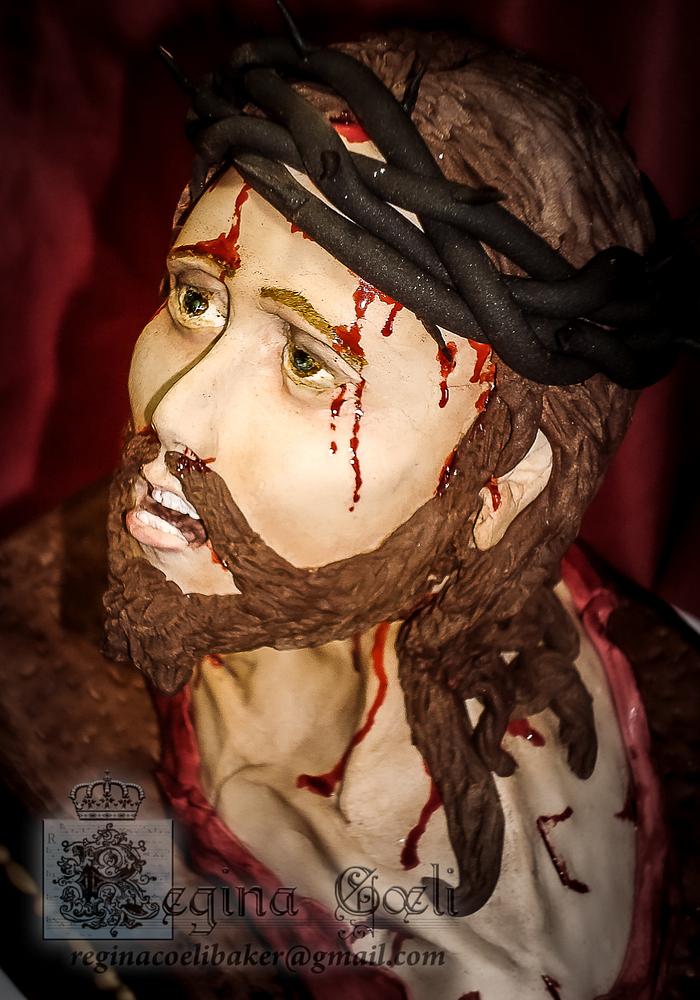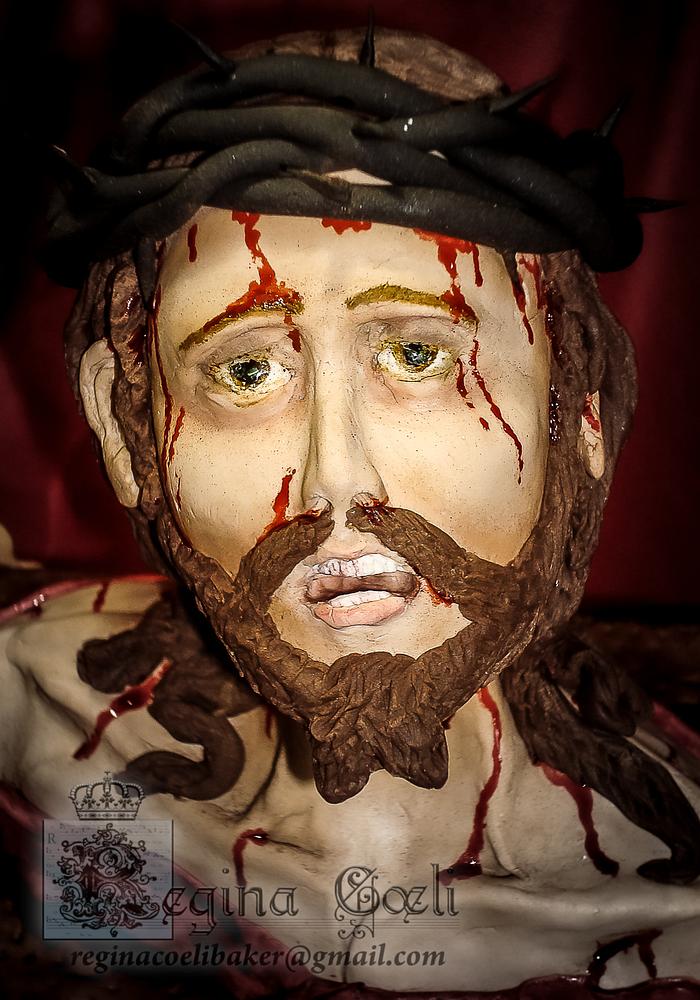 Ecce homo – "Behold the Man" are the Latin words used by Pontius Pilate in the Vulgate translation of the Gospel of John, when he presents a scourged Jesus Christ, bound and crowned with thorns, to a hostile crowd shortly before his Crucifixion.
This sugar sculpture is entirely edible, my first piece using candy clay for modeling. Also used pastillage, fondant, dragees and rice treats for the sculpture core. Inspired in the original art by Manuel Pereira in the 17th Century.
Ioannes 19:5
Biblia Sacra Vulgata
"(Exivit ergo Jesus portans coronam spineam, et purpureum vestimentum.) Et dicit eis: Ecce homo."
Holy Gospel according to St. John 19:5
Douay-Rheims Bible
"(Jesus therefore came forth, bearing the crown of thorns and the purple garment.) And he saith to them: Behold the Man."