Hi All! I've been a voyeur for years on CC ...finding some super helpful tips and tricks for all of my baking endeavours, but have not taken the dive to join and get chatting until today!
I currently use (and full disclosure: sell) these nifty tubes: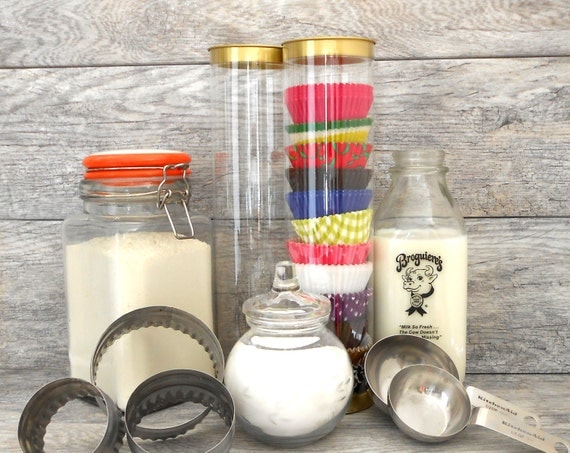 https://www.etsy.com/listing/226104081
But I'm wondering if there's a better option out there. (I have a problem with wanting to find "The Next Best Thing") My usual go-to Pinterest has only provided good looking options, but they seem to be limited to tall and skinny jars that only open on one end (not fun to get to the wrappers at the bottom!!)
Thanks in advance for your suggestions!
Plastic shoe box with a lid. Stacked high in place, liners stay neat, and it limits my "hoard" to the limit of the box. lol. I stack by holiday and color. They stack high enough to be full, but not so high as to squish.
Those tubes seem like they'd be a pain in the a$$ if you want liners from the bottom....plus I'm squeamish about stacking too many because the weight stretches out the bottom ones. I love my current storage....will attach a photo for you if you can tell me how!!
Single posting poster to sell her etsy product...
Actually, I was very excited to get started in the forum when I finally signed up, but I kept getting error messages when trying to reply to posts. :(
I also have had to repeatedly reset my password, and have finally been able to login again. My apologies for not being more active; I was just a bit frustrated with the technical issues I was facing.
Johnson6ofus : Do you do anything when storing in a box to prevent them from stretching out, or becoming misshapen ? Mine always end up square shaped when boxed.
Mymamacakes : I haven't yet figured out the nuances of the forum, so cannot help much with posting photos, I believe I just copied and pasted. The tubes actually open from both sides...but it's still not perfect for me. I'm always looking for the better idea!
I just don't stack too many too high. A shoe box seems tall enough to stack 4 or so varieties. I don't "jam" them, so their natural shape seems to stay fine...even on the bottom. Lid protects them, and I don't have to open strange containers, baggies, tubes, clam shells, or whatever.
I place them in the glass "Anchor" brand custard cups with blue lids, sorting by colour/pattern. I find that they keep their nice round shape this way and these containers also stack well and are easy to see through. I prefer them over the plastic versions because they are more durable and the only disadvantage is, they are breakable. You could then store these in shoe boxes such as johnsonsixofus does - great use of shoe boxes , by the way - or in plastic storage drawers.
I am having an extremely hard time using this site on my cell phone....the photos, especially, are all cut off.
I will try to copy and paste the storage unit I use--I got it from Michaels and it has thin drawers. Tonight I can take some pictures of what mine looks like. I label each drawer (holiday, solids, patterns, girls, boys, special...) Then I put stacks upside down in them---only one type/color/pattern per stack. Can fit a TON.
Why isn't there just an "attach image" option?