Hi All,

I'm new to this and only been doing cakes for a short while. I am making a henna-designed cake, which is a lot of intricate piping. I've read places that say that royal icing is the best for that type of detail work. But I was planning on covering the cake with buttercream, and I've heard that royal icing details on buttercream don't hold up well. Does anyone have any suggestions or advice??

Thanks!
I took a class with Norm & Zane and they used........................canned icing! We piped dark brown (chocolate) onto white fondant--and it worked GREAT! The icing came straight out of the can with nothing added to it. Norm said that if you wanted it stiffer, you could add in some extra PS.

It's the only time I'd ever use canned icing, but really, it worked very well for the technique.

Having done it this way, if I were making the cake, I'd do it again.

You can certainly do it with homemade BC, too. Royal will work very well on fondant--on BC, depending on the color, it may absorb oil and discolor and/or bleed.

Rae
Yes, one could use royal icing on b'cream but as was said it depends on the color etc. If the henna is dark brown there should be no problem using royal.
BUT......... I agree about using canned frosting
It would be the perfect consistency (after stirring it up). Work with a very small piping bag and have fun with it. It also would be - IMHO - much more tastey.....much less chance of something going wrong (like the oil in the b'cream effecting the royal etc).
canned? really? like the betty crocker vanilla or chocolate creamy icing? and that would work on a buttercream covered cake (since it's a small, simple cake, I didn't want to use fondant)? if that works, then that's amazing! and yes, definitely more tasty! thanks so much!
Yep, found my photo of my class cake (so far from perfect conditions--like not having the right tip):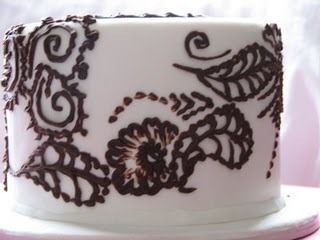 Rae
Wow who knew canned frosting had such a great use. Never thought of it but that cake looks good.
Yep, it can be good for *something*!


Just remember the more you stir it the softer/thinner it gets so unless you want almost water consistency refrain from stirring it up.