A friend of mine is officially adopting three children that she and her partner have been a foster parents to for the last few years. She is having an adoption party and asked me to make a cake for her; the style she wants is an open book.

I really want to do this, but have little idea on how to make an open book cake. She needs it by this weekend so I don't have time to buy the Wilton pan.

Can anyone provide some insight on what pan size I should use to make this from hand? She needs it to feed about 15 people, so nothing gigantic. I just don't really know where to start. Thanks!
I determine the # servings I need and bake 2, 2" tall rectangular layers that will yield that # or a bit more.

I stack the 2 layers with the chosen "glue"--generally buttercream or a mock mousse.

I cut a pattern out of a piece of long construction/art paper in the splayed "M" shape of a book. I place it on the long edge of the cake and gently carve away the shape.

I ice it in BC and apply 2 fondant pages, sometimes adding a few raised or bent corners under the top pages.

I then run a knife along the exposed edges to feather the BC to make pages.

I often add a long fondant bookmark down the center.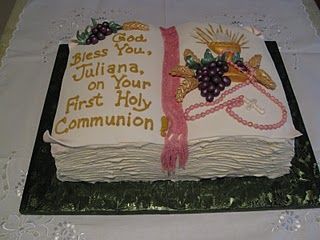 HTH
Rae
No problem
No need for a special pan.
Cut a 'V' shape out of the middle of a sheet cake and slope (cut/shave) each end a bit.
I did this for my nan's 80th birthday. My auntie provided a square fruit cake and I sliced a bit off two opposite sides to make it more rectangular. I then marked the middle and carved in an upwards slope from the middle to the side, making it page shaped. I covered the cake in fondant and used a ruler to make indents in the fondant. To make it a bit more authentic, I added in an 'extra' page on top so I could curl the edges slightly. I found that it just looked like a stack of paper so I stuck a fondant semi-circle in the middle of the sides below the 'center-fold'. Outlining the cover (what's on the cake board, basically the entire outline of the book.) is also a nice touch. I'm afraid I don't have any pictures to help explain but have fun with it!