I was putting together a friend's cake today with strawberry filling. It's the kind from a tub with small whole strawberries and a gelatin type strawberry base. Sounds yummy huh lol. But anyways, I had two 6" rounds (2"thick), and two 3" layers (also 2" thick), and they were slipping and sliding everywhere as I was trying to ice them! I did a dam to hold the filling in. But it oozed. I put it in the fridge to try to get it to hold together better. Still slid and leaned everywhere. I did manage to get it done and look presentable, but not my best work.
Is there a trick to this that I totally missed, or was it just a bad cake day for me?

Here's the cake in case you're interested. Was for a friend's husband that just got back from deployment. All the items you see symbolize events that he missed while he was away.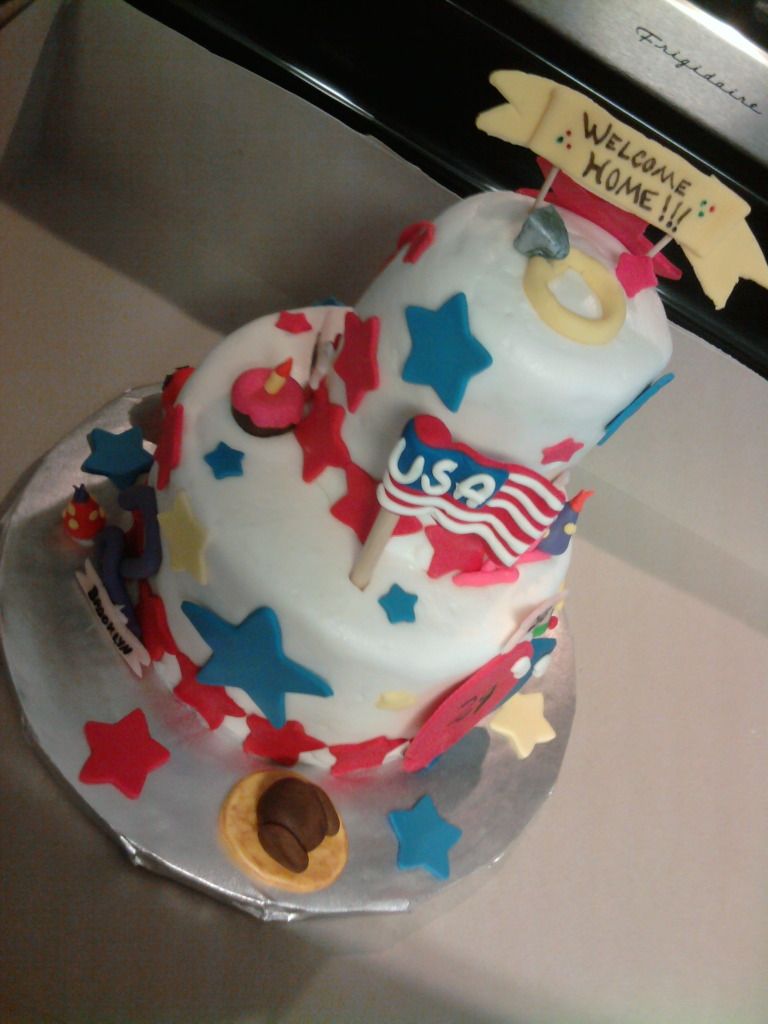 My only guess would be that you may have put too much filling inside the dam. If it's not above the dam line, I don't think it should have slid around.

Also, did you give a little bit of pressure to the top to "secure" it in place?

Also, 3" wide cakes are a pain in the rear to frost in and of themselves. They never seem to want to stay in place. =)

Anyway, not sure if this helped....

But your cake is adorable! You did a great job, especially considering the frustrations.
I am having to make a 12 x 12 raspberry filled cake. I've never filled one that large. I'm afraid it will cave in the middle. Do I need to make the buttercream dam in quadrants?

Any suggestions are welcome.

Thank you.
Cave in the middle? Why would it do that? I've made nearly 800 wedding cakes and no, filling does not cause cakes to cave in the middle.

The problem for the OP, was too much filling. It doesn't take much. But if the layers slide apart, that pretty much the definition of too much filling.
Thank you. It's my first big, filled cake & I don't want to mess it up.
Some fillings are just too slippery for cakes, let's face it. curds are the pits! Someone once taught me to scrape out a divit or hole (about 1/4") in the center of the cake leaving the rim the same height as you started. Gravity will pull the filling down towards the center instead of oozing out the edge. And I also agree, it only takes a small amount of filling per layer. If the filling is too slippery there really isn't anything you can do to secure it. And for smaller cakes, put them on a non-skid mat before icing and you won't have to chase them around on the counter.