I got a call this morning. This guy wants to make a surprise cake for his bride at the wedding of the house they just bought. No particular size is needed, since there will be a wedding cake.

(I did mention that I would need approval from the other cake person to have this cake there)

The other issue is that it has to be driven up to the city - 2 hours away - by the customer.

Add in that I work with mostly buttercream, and I don't know how I would be able to get as "structured" a look that I would need using buttercream.

Anyway, here are the pictures of the house. Any helpful hints on how to make it work?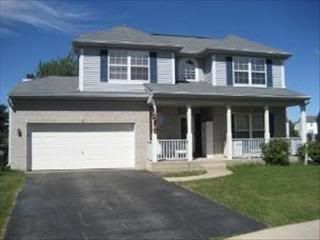 Thanks for any advice you have!!
Learn to use fondant! If you are truly not sure you can do it, turn it down, be honest with the customer and tell him that you work mostly in butter cream and this cake is not your venue. Why didn't he have the wedding cake maker make this cake? Why would you have to get permission from another cake maker? I don't get that.
Nothing wrong in passing on a possible cake disaster.
)
Well, just in general, it's all squares, so if you break it down that way, it sort of easy to see how you'd build it. I'd say it has to be done in fondant. By the time you add the columns and the sugar windows and do all the work, you'd need to charge about $1K seriously. What sort of budget does he have?
See, I'm thinking they are wanting something relatively small. I'm wondering if I should quote her one layer of actual cake for the "yard" and then make the house replica out of foamcore covered in fondant. Not sure if that's what she wants, but . . . especially considering the customer traveling with it for two hours, I just worry about a giant house cake crashing down.
Maybe you could use gingerbread covered in fondant for the house or part of it. It would work nicely especially for the roofs, the way they overhang. You could do a rectangular cake for the general shape of the house, carve out a bit for the porch, add a piece of gingerbread to the front with a cut out for the garage indention, and use gingerbread to for the second story, or parts that jut out and for the roof.

I would definitely use fondant for covering it. most of the corners have vertical white pieces of trim so you could even cut your fondant in squares, and cover it one side at a time and then use the "white trim" at the edges to wrap around the corners and cover the seams on the corners. I hope that makes sense.
When does he need this cake? If it isn't at least a month or two away, I wouldn't take the job. It sounds like this is something outside your skill set and you're gonna need a lot of experimenting and practice to get it figured out.
Thankfully, it's not until June 18, and I don't have any cakes between now and then. If they decide to go with me, I'll be practicing a *ton*.
I'm with a PP, if you don't feel you have the experience to pull this off, I'd pass on this one.

As for cost, I don't know that it really matters just how big it is exactly, Leah is right. This is a lot of work to pull off properly and it's going to be expensive. I think it's important to ask the customer what their budget is. That will help in deciding a) if it's worth your time and b) what medium you end up using.

You could also make the sides and roof of the house out of gumpaste or fondant mixed with tylose so it dries hard. Make templates of the pieces you need and cut them out and let them dry hard. Depending on what you used for your structure, you could use royal icing to attach the pieces.



Quote:
Originally Posted by peetz

Why would you have to get permission from another cake maker? I don't get that.



The OP needs to get permission from the other baker to provide another cake at the wedding because many cake decorators include clauses in their contract that there will be no other cakes by other bakers, or they won't provide their cake. This is because often the other baker's work is not at the same level as the person making the wedding cake and guest may think that the same person made them. Or something along those lines.