I am wondering if anyone can give the instructions on how to make a 3d John Deere Tractor cake with the cab? I don't need the instructions for the Wilton cake pan but instructions pertaining to an actual upright 3d tractor. Thanks!
I had to make one a little while ago , this is what I came up with.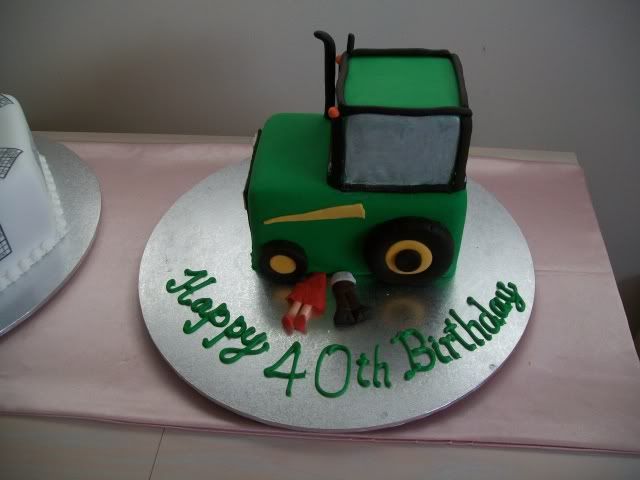 not sure which code works for this forum though
I've been asked to make one as well. I come from a family of farmers, so it is expected to look realistic. Did you come across anything worth passing along? I have the option of cab or no cab. I think I will be molding the tires out of chocolate so they are proportional. Aside from that, I'm looking for more information today...I've seen some very realistic one are incredible! Even I'm surprised to find out they are cake.
http://cakecentral.com/gallery/88935
I made this using a 12x8x2 sheet cake; cut it in 1/2 (long ways) and stack the pieces; carve the top edges to round it and make the 'slot'/drivers seat. Back wheels are digdongs (whoopie pies? I don't remember now) with tip 14 pulled stars for spikes, front Oreos. All icing is b'cream.
You could elevate it on a smaller piece of styro so it looks like it is off the ground (which I didn't think of at the time).
I have to make a tractor for my nephew's grooms cake in July. I have to travel out of state with it so I told him I would make a regular cake and put make a RKT/fondant tractor as the topper. I like this idea because it will give me plenty of time to get it right and I won't have to worry about it falling apart or anything. I think I'll make the cake underneath look like a big bale of hay. Probably doesn't help, but it's another idea anyway.