A magazine contacted me 2 months ago to use my cookies in a photoshoot..
It's a magazine about "Celebrations".. this one was about how to organize baby shower, baptism...
I wish I could post you pics of the magazine but I can't because I don't have publications right...

But I can post you a pic I took myself before delivery..
They sent me the design they wanted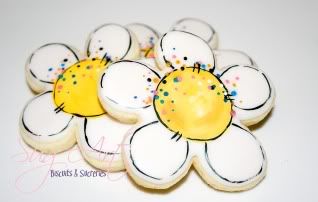 Very Cool!
OMG - they are absolutely adorable. Well done you!
Thanks ! And they are exactly as the graphics they sent me

I've worked soooo hard!
I've use glace and then I've painted on it !
They're beautiful! Great job!
Congratulations! They are beautiful!!
Congratulations! That is awesome.
Those are beautiful! Way to go
you should be proud!
Congratulations! They are beautiful.
These are gorgeous! You are very talented.


that's all......