my husband and i have messed around making cakes but nothing major at all. we have been asked to make a wedding cake for my uncle, well we have never done fondant or stacked cakes. so i am asking for any idea and tips to make this nice cake.
will a cake this size feed 80 people?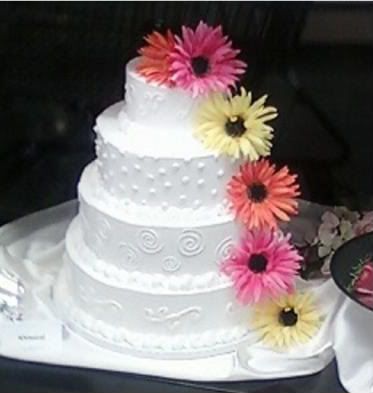 it looks pretty simple, is it?
The boot can be very difficult
It takes a specially made stand, pound cake and lots of work.

For 80 servings I suggest 12, 9, 6 rounds (will actually serve 100 not counting the top tier). Personally I would do it in b'cream but it can be nice in fondant too.
Maybe I'm wrong, but the wedding cake looks like buttercream to me. If you choose to use fondant, I'm a big fan of Satin Ice. It's more expensive than making it, but I have better luck with it (as an inexperienced fondant user).
I would suggest using SPS (single plate support) for stacking the tiers. It's extremely easy to use and very sturdy. You can get the SPS on Global Sugar Art and the instructions you will find on the "how-to" forum here in CC - it's a sticky.

I've made my own fondant without issues, but you may want to try Satin Ice just to make your life easier. I like using fondant on my cakes because of the porceline look but if you're more comfortable using BC, go for it.

As for recipes, there are lots here. What flavor cake are you going to be doing? I suggest trying a few different recipes (if it's possible) to see which one you prefer. It's always good to do a run through on a recipe you've never used before anyway. And it depends, too, on whether you prefer box mix or scratch made.

As for the groom's cake, instead of it standing up (which can be challenging), maybe try it laying down on its side where you can just "cut" out the shape from a template. HTH
thanks a lot everyone. i think we will try to satin ice, although shipping on that is outrageous but i'm sure it is worth it. maybe i should try to make some and maybe just make my own. anyone have a recipe i could get?? i know there are some on the recipe page but if i could get one that i can talk to that has made it their self. (hope that makes sense)

we are gonna try the white almond sour cream recipe. is there anything i should know about the white almond...?

also is it better to put the cake together at the reception? i'm gonna assume we would do the dowels before though?
I can't really make any suggestions about WASC recipe but others here could probably.

As for putting the cake together, you can either wait until you get to the site or put it together before hand if you're using the SPS. I personally like putting it together at the site just to make my life easier but it's been successfully done both ways - it's a preference thing.

BTW, are you using real Gerber daisies or any flowers?
I used the WASC recipe this weekend for a cake for the guys at my DH's fire station. It worked great and it tasted wonderful. I didn't figure the guys would be fans of the almond so I left it out and it was fine.

I would go with buttercream. I've used the crusting buttercream recipe found on this site and I get a nice smooth finish and I don't have to fuss with fondant, and it turns out a beautiful white. I just put it on heavy, smooth it with my scraper and then use a viva paper towel and fondant smoother to get it pretty. Easy. There are other methods posted here for smoothing buttercream too, but I agree with another poster, the picture you have looks like buttercream to me.
id strongly advise making at least one tierd cake before doing the wedding one. and get used to working with fondant too. some things only experience/ practice can teach you!

as to fondant vs bc, what does the couple want? if you can do smooth bc, it would look great, and if you are copying the picture, it looks like bc. (or rustic bc, just change the design a bit).

if you do fondant, it can be easier to use bought stuff, as then it is a consistant product, and if you do end up making your own, you know what result you want. most people on here make mmf, or mff. there are 100s of posts about them. also about WASC, and different cake recipes. and bc too, lol.

as for the boot... i agree, lying down might make life easier for you! its harder doing tall/ awkward shapes in fondant, at least lying down, you only have to worry about the awkward bit!
xx
im not sure i could do BC smooth enough lol. any tricks to getting it smooth?
do a search for the VIVA method, it works really well. or else just use a hot spatula. theres lots of posts on how to do smooth bc.

but i like the rustic look to bc, because you can really just slap it on, draw your spatula up the side, so that needs less practice! cant find the picture i love of that kind of bc though.

speak to your uncle, and see whether he wants fondant or bc, then you will know which one to worry about!
xx
If you are using buttercream, use the Viva paper towel method. After icing the cake, let it sit until you can touch the cake and icing does not come off on your finger. Get a fondant smoother and a sheet of Viva paper towel. Make sure you put the smooth side of the paper towel down on the cake and firmly - but gently rub the fondant smoother over the paper towel. This process, to get the cake perfect will take probably 10-15 minutes on a larger cake but the results are amazing.

Sometimes to get a head start, I take very hot water and dip my smoothing knife in it, wipe off the water and smooth over the cake. You may find that this will do the trick on its own. Just keep dipping in the hot water and cleaning your knife.

Hope this helps. I know this will provide the results you would like - and people don't have to eat that gross fondant... : ) Have a great day!