I've been practicing my cookie decorating and I just finished my first Bunny Cookie. What do u think?

I know its not the best, but wanted opinions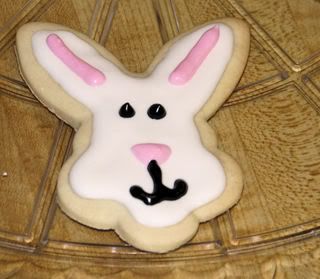 It's cute! What kind of icing did you use?
Great job Bigbearswife
Looks like RI and thats hard to do
So cute!

I made the same cookies last week, but I used an edible marker for the mouth and eyes. I'm now in love with edible markers!
very cute, good job but where are the whiskers
Ok,...I really do think it looks great and mine are far from perfect but if you're asking how can I improve, I'd say instead of just a straight line of pink inside the ears, I would do more of an upside teardrop shape of the pink. Maybe a smaller tip a 1 or 1s for the mouth. For the eyes your dot looks a bit pointy, so just tap it down with your finger or give the cookie a good shake so the icing settles.
Hope thats what you wanted...because it is very nice first try or not.
yes it I used Royal Icing


edible markers... yay! love these... im using them on the ones i made tonight.

And yeah... this was a midnight decorating job lol... started a little late and didn't want to stop 1/2 decorating lol...
I think it's adorable! Good job!