Please excuse my inexperience. I am very new at making cakes.

What are these figures made from? And where can I purchase some of it? I realize that they are hand sculpted. Im just amazed and blown away by the talent on this website!!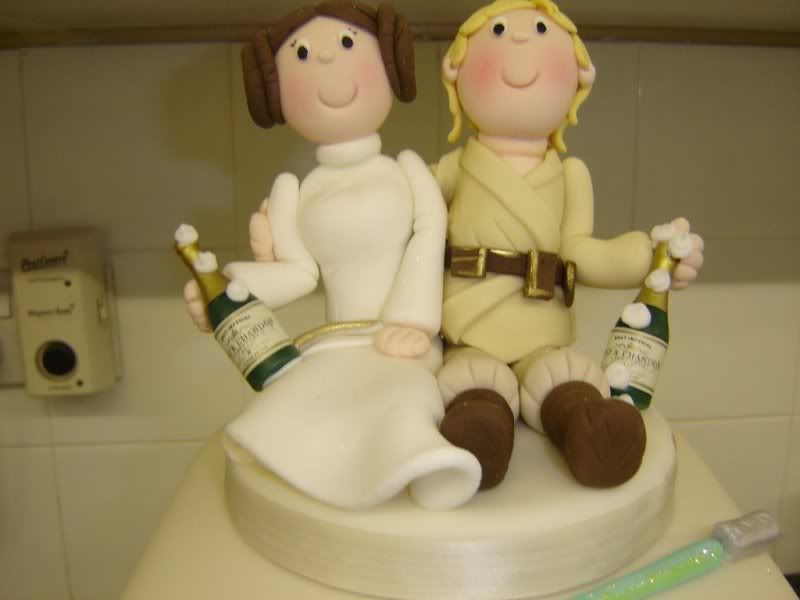 Also, I wanted to state that this cake was made by Helen Brinksman.

[/img]
It looks like gumpaste or fondant gumpaste mixture. Both you can make or buy at a supply store or order online.
Hi! It could also be a non-edible medium like fimo or something? I had a wedding topper simular to this on my wedding cake but it was fimo which meant I have been able to keep it as an ornament! However if I was to make these from an edible material I would like beck30 def use a gumpaste or mexican modelling paste mixture!
I would also say fondant or gum paste or a mixture of both..
The figures are adorable..
If that is sitting on a cake, it should be fondant/gumpaste. Very cute! Love the sparkly light saber!
Sorry forgot to say you can purchase gumpaste, modelling paste etc from most cake supply shops or online! As for fimo / modelling clay that can be purchased at most craft shops, can't be more specific as I don't know where you are from... I'm from the uk and wouldn't know the specific retail shops in the USA for example! Hope that helps and good luck with the project!