Hi Everyone...I am doing a Bridal shower cake for my niece...I am trying to wrap the bodice of the doll in black fondant, to almost look like the dress is haning on a dummy. I got the idea from a few pics on CC. I haven't even gotten to the dress yet, I am trying to cover the plastic part of the doll first...Anyway, I am having an extremely difficult time wraping the bodice of the doll. Is there a certain way that this needs to be done! HELP ME!!! I am running out of time!!!!
Sorry no one has been able to help you so far. I can't remember ever doing it in fondant. I always used b'cream & tip 14 stars.
Have you rolled the fondant thin enough? Are you working w/a small piece? What exactly is the problem? Is it not sticking to the plastic?
I am not getting a smooth look...I have rolled it thin, it breaks, I roll it thick and it's so thick that it bunches up and doesn't look smooth and I can't smooth it out..Mostly around the neck and arm area...
I don't know about the thin/thick thing. I did one of those bride doll cakes and I had a devil of a time with it. The bodice was a lot of trial and error.

I did mine in fondant- I read that some people cut out a heart shape then cut off the bottom so the top of the heart covers the bosom area and the rest wraps around.

I think I cut a strip, embossed it, then wrapped it around. Then I added a sash to cover the seam between the doll part and the skirt. I dusted the sash in her wedding color.

I hope this is a little helpful to you. You'll find a way that works!!
Trial and error with mine. I looked at it like I was designing a dress.
Seemed to work okay. (was the purple princess dress)

The mermaid one was much easier for me, though, since it was a bikini top.

Good luck!

angie
hey try to roll the arms up and then cover the bodice with the fondant it will really help you to wrap it neatly
you can also try to cover the hair with a sarang wrap so it will not get any thing stuck in it and wont stick in d fondant lol............
Are you trying to cover the entire thing? Maybe dip it in chocolate
Am I right in thinking that you are trying to make the body(minus head) look like a black dress dummy? If so, that dipping in chocolate idea sounds the best. And it will be absolutely decadent, too! Mmmmm.....chocolate!
I just did this for my nieces' birthday cake.

I used a 1:1 ratio of gum paste/fondant. You could add Gum Tex, Tylose or Gum Tragcanth to your fondant and get the same result. Just don't add too much or it will get brittle fast.

Since you're going for such a dark color I would suggest the powders, because the gel color will make it too soft.

I rolled between 1/8 and 1/4 inch. I used a heart cutter for the front and just messed around until the back looked right.

Her arms were up in the sky, along with her hair.

When I had to glue it to her I lightly misted the sugar paste and then stuck it on the body. This worked out very well.

A word of caution, the black stained the Ken doll, that I did as well. He looks like he has a permanent sunburned boots on his leg.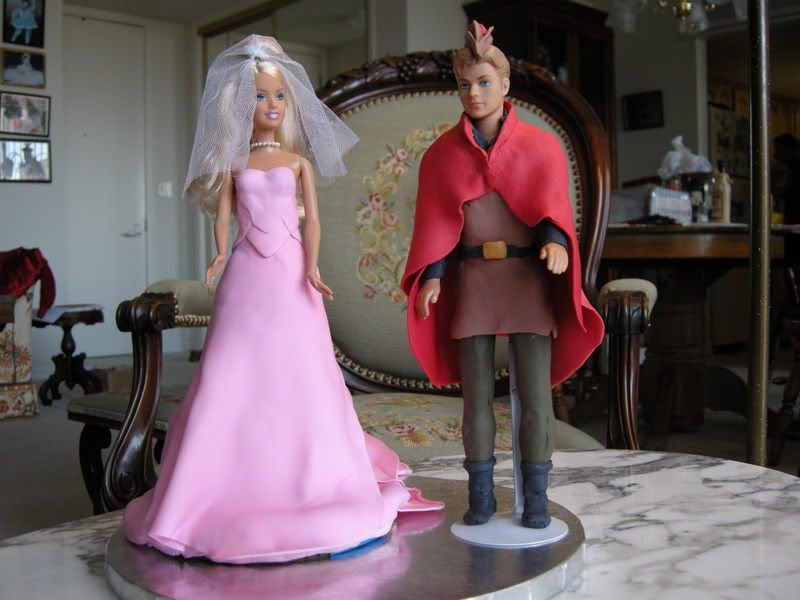 Hope this helps.
Thanks everyone...I ended up getting it covered...it's not the smooth, smooth look that I would like, but it's not horrible...The Chocolate idea was a good one, but I was afraid that once it dried, that it would start to crack and flake off...I will definitelyt try it in the future, though, just to check it out...When my cake is finally done, I will post pics...Although, I have to give honorable mention, at that time, to the person whose cake I am trying to replicate..The name escapes me now...
The fondant needs something to stick to (just like a cake) - cover the upper body of the doll in buttercream then stick the fondant to it.
Quote:
Originally Posted by sugaah

The fondant needs something to stick to (just like a cake) - cover the upper body of the doll in buttercream then stick the fondant to it.



Tried to do that for years, ends up R rated, slides right off. I misted water because I knew my niece wanted the doll and that would be fastest way to get it off.

Piping gel will secure almost like concrete or superglue.
I just had a thought for making the bodice black. Would it be food safe to cover it in
a new black stocking? The gumpaste should adhere nicely to it.

Thanks for any responses!
My thought is anyone wanting to eat the bodice? If not, who cares? It will depend on the maturity level of the cake eaters.

The I'm a 6 yr old birthday cake, which is mermaid by Wilton, my niece said immediately the doll is mine. I'm getting all that icing! I think she had been to a couple of birthday parties, where dolls and icing were involved. I don't know how to say this properly, so I will say it out loud.

BIRTHDAY GIRL ALWAYS GET TO LICK THE DECORATOR FROSTING OFF BARBIES' CHEST.

This should be a rule, law...I know for fact , every non birthday girl is jealous when the B day girl pulls Barbie out the cake and starts consuming pure, greasy, nasty and funky flavored icing.