I have someone that wants this cake for about 15 people. The cake itself I would just use a square and cut it into 3rds I think..
I have never made images like this that stand up! Anyone have suggestions on how I should approach this.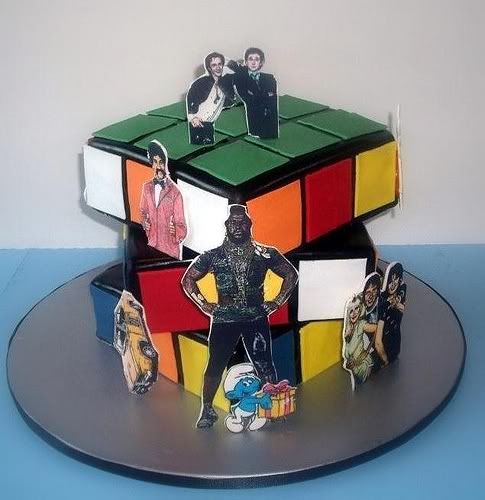 Did you mean a single layer cake cut into 3rds? I don't think that would give you the right proportions. The best way is to figure out how big you want your squares. If your squares are 2x2 than you need to make sure that the cake is at least 6" tall and wide - and that's not really giving you enough room for the "space" between the squares. You might instead go with a 7"or 8" square and do 3 single layers. I, personally, would do each layer on it's own cardboard and add some straws for support.

As to the figures... edible images on white chocolate, candy clay, fondant, gumpaste or fondant/gumpaste mix. What I've done is print out my images on regular paper. Cut them out to make my template. Roll out my fondant/gumpaste to about 1/8" thick. Cut out the pieces using my templates. Then when I print off my edible images I use a little water or gel to "glue" them to the fondant.

I'm sure there are a few different ways to do it. This was just one way I did it recently.
Haha!!! I'm an eighties girl! Oh, the memories!
Yes 8" square 3 single layers sound good to me!


I don't have an edible image printer!
Is there any other way to do it? It may not be edible but maybe just print it out and stick it on the fondant/gumpaste to make a plaque?
If the figures don't have to be edible then just print out or copy any pix and mount them on fondant 'plaques'. Make sure the customer knows that they are NOT to be served.