I recently made a couple of cakes for my daughters and nephews birthdays. I had a couple of issues that I was hoping the experienced guru's here could help me with.

All the fondant covered cakes I've made so far have been in winter, but this one was heading into summer. The day of fondant covering and decorating was more humid than most as it had rained that morning, but it was also pretty warm. What I wasn't prepared for was how soggy the fondant was, and how much it sweated when it was on the cake. Does anyone used to making cakes in hot humid areas have any tips?

Here is the cake in question, Disney's Rani fairy. It ended up ok after much cooling:





My other question is about coloring buttercream icing. I needed to make an Elmo cake, so wanted nice deep red colored icing.

I have read here that the color sets in over time, so if you can make it a few days early it's better. I made the icing a few days early, and put almost an entire jar of Wiltons color in it plus some other red color, but it remained stubbornly pink. I checked it after a few days, then a week, and no change in color. It was only when I was piping it on and the icing heat up from my hands on the bag that it became really red. After beating it again it darkened, but needed the heat to properly come out.

So my question is, how do you know how much color to put in if the color doesn't appear until the icing is applied to the cake? Is it just experience or is there some formula to it?

Here's the Elmo cake: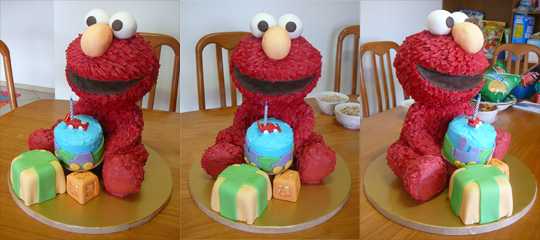 Thanks in advance for any advice you can offer


I've also written a bit about the making of these two cakes on my blog:
http://www.zerogravity.com.au/blog
I live in Georgia (in U.S.), so it's quite humid here. With my fondant, I have to constantly put the cake in the fridge every little bit and then get it back out to decorate some more.

On the buttercream-for red-I start with a dark pink color, then add about 2 small dips (with a toothpick of brown), then I add red. The darker you need the red, the more brown you add first.

someone may have a better technique but that is what I do! Good Luck!
Hi Kretin Welcome to CC! I had that same issue with the fondant just a couple of weeks ago. Mostly I do my fondant covered cakes in summer and so winter comes and there is not humidity so I had trouble. one thing I came to find out is you need to tweek your recipe. I normally use 2 lbs of PS to make my fondant recipe. So here is how it goes. In the winter I leave out two cups of sugar and knead them in as needed. In the summer I use all 2 lbs and sometimes more. I'm in Texas so go figure!.

As far as the coloring you could start with a pin base like Liapsim said and then add red or you could try using americolor gels or even the CK powders. I think they work much better than Wilton. I still use the wilton solors but mainly just for fondant or painting. As far as buttercream is concerned you try other brands. hth
This may be taboo... but I have, in the past, bought pre colored Wilton Red BC. This ensures I have the proper color and it won't taste gross. HTH