it's been a while since i've had a disaster, cake-wise. it was bound to happen sooner or later. my 3 year old got ahold of what was supposed to be a wine bottle for my town fair entry next week. it's a good thing i wasn't happy with it anyway, or he would have been making me a new one! lol

lesson learned - don't let your three-year-olds help! lol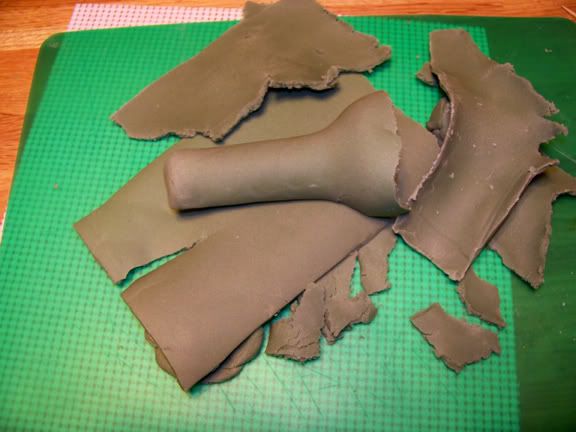 I feel your pain. I've got a 3 yr old DD and an almost 5 yr old DS. When I have cake stuff to do, it is almost ALWAYS after bedtime. I know they're just trying to help me, but it just doesn't work out that way!

Karen
Silly question... how do you make a wine bottle? It looks like it was hollow...
I am so sorry!!! I really feel for you - I have a 5 and 3 1/2 yr old running around. Even though the rule is "NEVER touch mommy's creations"....fingers still manage to get very close! Hope you have time to make another one. Maybe it was better to have happened NOW versus on the way to the fair?
OOOH! I feel your pain! My 3yr old just finished attacking a fondant covered cake board last week. There was a huge airbubble in it, so it was alright!
Not nearly as bad as a bottle, but I can relate!
fortunately, i have plenty of time to make a new one! the entry isn't due until thursday! and i actually think i am going to make a smaller bottle next time.

mommy_of_3, i colored fondant green (it would eventually be crisco'd to be shinier), rolled it out and laid it on a real wine bottle. i let it harden, then did it again to make two halves. then i was going to put the two halves together to make a fondant bottle, but i never got that far...

usually my ds helps me with my cakes (i let him put some decorations on, or give him some frosting to play with), but this time, he obvisouly wanted to show his creativity without me.
Jessica,

my b/f ( who btw is much older than your son
) tries to help me and the outcome has been similar. I have learned to send him to the store for an item I just realized I 'forgot' but cant finish without


Gl with your entry!

Jessika
Jessica,

my b/f ( who btw is much older than your son
) tries to help me and the outcome has been similar. I have learned to send him to the store for an item I just realized I 'forgot' but cant finish without


Gl with your entry!

Jessika
i feel you! i have a 4.5 yr old DD and a just turned 3 DS but they are prety good we have only had two incidences to date (fingers crossed i did not just jinx myself) one was early on when my DS decided the big red bow on top a cake looked to yummy not to try! (her explanation was so honest what could i say! and the second was when my DS stuck all 5 fingers through a finished fondant covered cake (luckily they were clean straight out the bath and at the back of the cake so i was able to patch!) i work with them at home and they are generally great they always ask who the cake is for and if it is for a 'lady' (or wady if you are my DS!) they leave it alone, the trade of being thought if it is for friends or family and not a paid job they are entitled to help we have come to this understanding and for the most part it is an even truce-not to say we don't have close calls and me screaming "back away from the cake!" alot lol!! i find playdoh helps too as they think they are doing exactly what you are but with out the stickiness!!
Oh wow...This reminds me of when my son was in kindergarten and picked the points off of a fondant lace wrap on a dummy cake. EVERY SINGLE TIP of the lace was missing, because he had decided that they should be eaten. He never did that again, though! I think that I took away his bike for a week, he had to return a trunk that he had received for his birthday, and he wasn't allowed to go to the circus with his class. I'm so harsh...

My daughter was about 3 when she started telling people "I help Mama with cakes by NOT helping."
My similar story is almost 20 years old, but I'm at work and my 6 year old calls (where is daddy and why he's not handling this is beyond me ... but that's another chapter on why he's an "ex"!). I have a wedding cake sitting on the ktichen table that needs delivered that night.

"mom....john touched the wedding cake and there's a dent in the icing."

I tell her to keep john (who is barely toddling ... and where is dad, by the way?
) away from the cake.

Call #2: "Mom .... john touched the cake and put his finger in it and now there's a hole." Big sigh ..... keep him out of the kitchen and I'll fix it when I get home. (Why isn't dad watching his kids?
)

Call #3: "Mom .... john knocked the top tier off of the cake!" GET YOUR DAD ON THE PHONE NOW!!!


Dad gets instructions on how to bake me another top tier so I can ice and decorate it when I get home. This also involves him calling me to tell me the cake was in the oven, another call to tell me it was still baking, and a third call to tell me, "The cakes done....what do I do now?" I said, "How about taking it out of the oven?"

It's shouldn't be a big mystery on why he's an ex!
i can so feel your pain!! i was making my grandma's 90th birthday cake for a big party we were throwing.

my 2 year old decided she didn't want to wait for the party
. there was no way i could make a new 10" layer in time, nor did i want to, hehe. so i scraped out a little bit of cake and the surrounding fondant and just patched it and luckily the band covered most of the hole.

thats the reason i think toddlers are so cute. it keeps ya from killing them
Yes, I can relate. My 18 mo old got real quiet for about 5 min this afternoon and when I go looking for him his has a blue mouth and is eating my gumpaste bow I was letting dry. That's what I get for sitting him on the counter and letting him taste occasionally! Oh well, I'm assuming the gumpaste won't kill him and I didn't really like how it was looking anyway. Redoing tomorrow and then putting it on a HIGH shelf!