I am making a heart shaped caked for my mother's wedding.
I have two round cake stands. One stand is clear with frilly legs. The other is a wilton cake stand. It is white with four candle holders.
Is a round cake stand ok or should i use a heart shaped based? The cake is pink with hearts, bows, and little fondant daisies. Very frilly (wilton).
My mom bought the really tacky cake topper that has the bride dragging the groom.
i don't see how that will match!!
thank you,
Missy
Heart shaped bases are hard to find. You could use a couple layers of foam core and cut the base at least 2" larger than the base of the cake. cover it and use that.

However, it might look fine on either of the stands you have. You just have to judge yourself.

Don't worry that the tacky topper doesn't match with the frilly cake. it happens all the time. You only need to please the bride and groom.
I personally don't like those toppers either, so i take a picture of the cake before i put it on to go in my portfolio
my wedding cake was heart shaped and it was on a round silver plateau. i didn't think anything of it.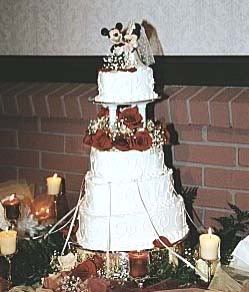 I have the Wilton stand with the candles on it too... I love it......You can use a round base just so the point of the heart doesn't hang over...you should have at least an inch from the tip and back of the heart to the edge of your round base....