Hello,

I need to make a cake with several little tombstones on the second tier. Probably an 8" square. The cake will be iced all in bc. What should I make the tombstones out of, and how do you make them stand up on the cake and not fall over?

You all are so smart! I appreciate all the help I get here at CC!
I made them out of gumpaste rolled out to about 1/4" thick and then cut with a template that I made out of cardstock. I let them dry and then I "washed them" with black royal icing and vodka to give them a marbled, dirty look. Then I piped on the messages with black royal icing.

I put them up against a fondant-covered cake and just used a dab of royal icing on the back to make them stick. You will just use buttercream since you're sticking them to a buttercream-covered cake.

It was pretty easy. You'll have no problems.
I have used Vienna Fingers cookies, iced in grey buttercream and pushed them halfway into the cake. They held up fine and looked very authentic!
I've done the same as Beckalita using Mint Milanos, and once with NFSC that I baked. Depends on the look you are going for.
I used Oreos, then cut the sides straight with a knife, and then covered in fondant. But you could just cover the Oreos with buttercream too.
What shape are the Mint Milanos? She wants the tombstones to stand straight up, not lay down, or against the cake. I was worried that if I just shove whatever into the cake, it will lean one way or another. I don't want them to fall out.

Love the ideas for using the cookies. She wants it to look like a real headstone.....

So, if I use one of the types of cookies mentioned here, cover it in bc, can you still write on it?

I could do as the first poster said and make it out of fondant, but it would taste a lot better if you could eat a cookie instead of a piece of fondant.
I've never used royal icing before. To write with it, do you just make a recipe of it and put it in a deco bag with a number 2 or something? Do you need to thin it out more to write with?

Thanks for your help everyone. It's so nice to have a support team at your fingertips!
I've seen it done with the Vienna Fingers, they are the perfect shape and long enough the sticking half into cake doesn't loose its effect. If not cookies or fondant how about chocolate transfers?
http://i179.photobucket.com/albums/w313/Francesca47/cookies_top_milano.jpg
Here's a good picture. They make the rounded-top tombstones. There is a mini-sized one also.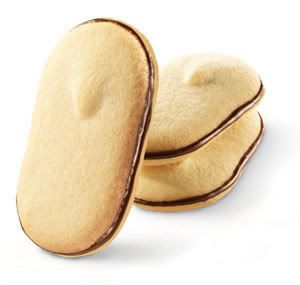 I just want to say thanks to everyone who gave me ideas on the tombstones. They are all great ideas and now I'm ready to tackle this cake order.


I have used the small (fun size I think...) butterfinger bars or a large butterfinger cut to size. You can cover them with MMF tinted gray etc. I usually just stick them into the cake a little, but you can skewer them as well. I also buy the eye shadow applicators from the drug store and dab them with a little brown green and buttercup yellow gel coloring and just kind of sponge paint the tomb stones to make them look old and mossy.