It looks to me like brush embroidery. Looks a bit time consuming, but not difficult.
it looks like brush embroidery, but Im sure moulds and cutters will give a very similar effect
ditto, brushed embroidery....

i learned this technique from earlene moore.....
try her website, not difficult to do.....i haven't seen it anywhere but her house, so not sure if it is an 'old' technique or just one not used often....there has to be a reason....it's lovely
sally
I think it's done with cutters as it's so raised off the side of the cake
brush embroidery looks like its raised. Here is an example I did recently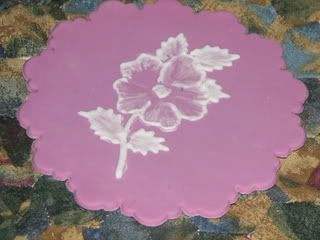 That reminds me of a jennifer dontz cake, if you know who's it is you can ask them.
I think it looks like it's done with patchwork cutters.
I think it's done with a mold/cutters. I don't think it's brushed embroidery because the stuff on the cake is evenly raised with a consistent thickness. Just like fondant would be if you would cut it out and mold it. Also, their are no tails in the middle of the leaves like BE would have.
Looks like brushed embroidery to me too, with the vines piped for a 3-D effect. Use an embosser for the design (probably be the easiest), or use a template or stencil to pinprick the design onto the fondant - pinpricking the design can be a bit tedious so I'd go for the embosser.
Quote:



Those Patchwork Cutters are so cool!
I wish I had some myself! They make the prettiest designs on cakes.
I am quite new to this, but it looks some what like brushed embroidery to me too. However, the leaves look so thick in some areas it doesn't look exactly like that either. It does look like a stencil design too maybe that is the way to go? It doesn't look like cutters were used in my opinion, but I am sure they could be used to get a similar effect. Sorry that wasn't very helpful was it? Anyway the cake is beautiful. Good luck!