Okay so I was pretty pleased, but still had some questions. Why does Dora's face look like a 2-toned brown, did I do something wrong when mixing in the color to the bc? Also how can I make the transfer look more "smooth" next time? Like I said this was my very 1st try at not only a big cake, but a transfer too! lol

Maria
(Beginner)
oops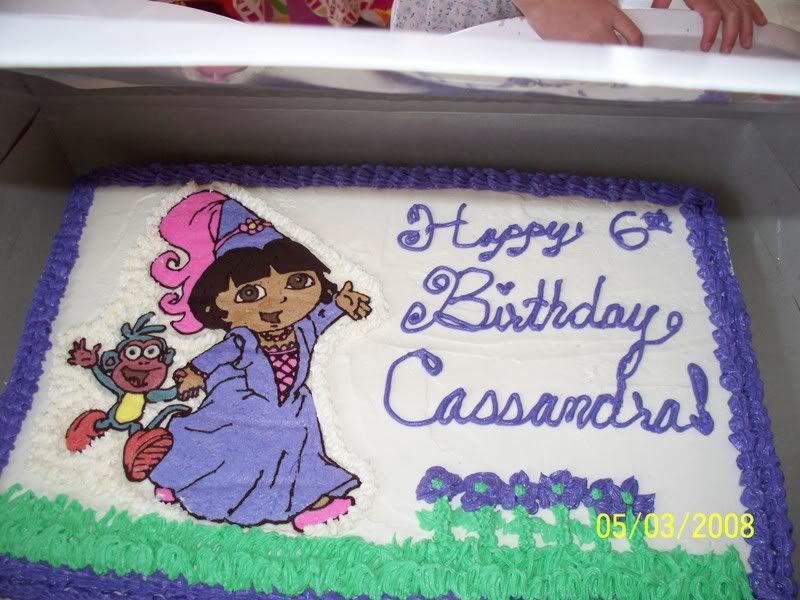 Oh well done, Nessa! Your first try at bct, you did awesome! You really blended your colors well, too! Congrats!!!
Looks very nice for being your first one. I think it looks great!!
Great job! Your first time looks better than all my tries!
Your fbct looks awesome. I wouldn't have known it was your first!! My first was hilarious! As far as smoothing them down, I've heard some people say that they treat it like any crusting bc...let the frozen transfer thaw on your cake, then crust over again, then you viva or whatever. I DO NOT KNOW FOR SURE b/c I've only done the one hideous fbct and I would've been terrified to touch anything to it when it was finally on the cake and "safe"
you did a great job for your first time.
Awww, you ladies are so SWEET
!!!

I have learned by pictures and things that you guys have posted so all of those compliments are compliments to you all too!!

Thanks, for the link I am going to check it out!

Have a great day!
Great job! Very cute and the colors are great.

The only thing I can think of is that maybe the color you used for Dora's face was not quite mixed evenly but the difference is very slight - I wouldn't have even noticed if you had not mentioned it. Very nice cake!
wow! you really did a great job for your first one.... love it....