I got a toolbox like a craftsman toolbox (but he got it from Home Depot) and he also got a counter top to mount on top of it!!! I'm so excited, now I have a place to organize my cake stuff!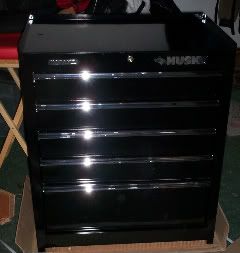 ooooohhhhhh all shiney and new!! Have fun filling it!! It will look great on your counter. I love the black.
Lucky you! Congrats and enjoy! Oh, and Happy Mother's Day!
Thanks everyone. My mind kept going into overdrive on how I was going to organize it, lol. I'm going to buy baskets it for it today
Here it is with the counter top installed on top!

what a great gift. very thoughtful, have fun!
That was a great gift...hope you enjoy it and put it to good use.
Now I will have to say I would not usually get excited about a tool box. BUT a toolbox like that for my cake stuff YEAH I would get excited.
Come to think of it I have a red craftsmen tool box downstairs in the basement that isnt being used...........hmmm i wonder if it will fit next to my fridge...... my husband will think I am crazy but hey he doesnt use it.
Lucky you, doing the happy dance here for you!!!! Enjoy filling it up and decorating with that nice work space.
Happy Mother's Day!

OOOH, I want one too!!!!!!!!! That's one cool gift!
Hey Paula, great gift! Our DH's shop at the same place
. I got the jigsaw I've been wanting to cut out my own cakeboards & my daughter gave me a $25 gift cert. to Home Depo too! Can't wait to go cake supply looking. Have fun with your new toy & Happy Mothers Day to you all.
I thought you were gonna say a kitchenaid but this is just as good!!! Happy Mothers Day!!!!