Ok so i have just under two weeks until my sons 2nd birthday.

I really want to make a Thomas the Tank cake, but in 2D. This is the template (picture) i am going to use:



It's just a little bigger then an A4 sheet. Except i am not going to have it on the rails, it will just be the train part, with some of the more detailed parts taken out. The colours i am going to use are blue, red, black, gray and yellow.

I am going to use a rectangle chocolate cake and cut it out the the shape i need, but i have no idea on the icing part. I didn't really want to use lollies, i was hoping to have it look all smooth. But i just don't know how.

I was thinking about using fondent, making the colours i need, cutting out the shapes i need and trying to 'stick' it all together on the cake. Would this work or is there an eaiser way?

Can anyone help?
Fondant would work but would take awhile cutting out all the shapes. If I was doing it I would fully cover in fondant and paint on picture with food color gel watered down. Then you could use buttercream icing with small round tip for out lines to make it stand out! hth
This template has a lot of detail, cutting the perfect shape and size of each one in fondant is going to take a lot of time but will look cute, mommycakediva has a great idea with the painting, I'd do part painted and cut out of fondant only the parts that need to stand out like the number, the face, etc. Good luck and happy baking.
How about making a frozen buttercream transfer if it's going To be 2-D?
Hi, thanks for all your replies.

What would the painting look like? I have no idea. But it sounds like an ok alternative.

If i was to use fondent and cut out the shapes i needed, when i go to put it all together on the cake, how would i make it all stick together to make it all look like one peice?

As for frozen buttercream, do you have a recipe? and also what would that look like? is it hard to do (i have never done any of this before).


Here is a pic of my hand drawn one.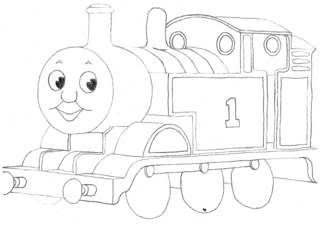 did you know Wilton makes a T the T cake pan? It would add dimension to the cake for you. You could also so a chocolate transfer and not reverse the image, that would add dimension as well.
For the painting you would just draw on the fondant and color in like a coloring book! Then you could use the idea of just cutting out for the numbers or whatever you wanted to stand out, but what ever works best for you. Good luck and have fun!
If you get the wilton pan you can use only stars on diferent colors, it takes some time but is so easy and looks good.