I am new to this site and new to making cakes! My names Kelley I'm 21 and just got engaged almost 3 weeks ago to my boyfriend now FIANCE of 4 1/2 years! We decided to wait about 2 years to get married so we can save up and stuff. So I decided I'm going to make my own wedding cake...
!!! I have always wanted to make a beautiful cake like I see on TV and in magazines and heres my chance. I love the fondant wedding cakes...they are beautiful and they are EXPENSIVE so hopefully I can do it myself. So I rushed out and bought cake pans and everything else you can think of and tried to make just one tier of the cake to start off with. I made two 10" round cakes and buttercream icing and put them together and then I made MM fondant and rolled it out on my "fondant mat" and went to peel and flop it on the cake and it was stuck!!
I was so mad I ran to my fiance and cried and said I thought I could do it and got so upset because I had just spent 100 dollars on cake stuff I thought I wasn't gonna use. Anyway So I've picked myself up and am gonna give it another shot. I have a few questions for you guys and hopefully I wont annoy yall too much! Have any other brides ever made their own wedding cake? I was wanting to do a strawberry cake box mix...is it strong enough for fondant and four tiers? Any tips on fondant? Im going to make a 4 tier cake and I think it will go somethin like this...1 12 inch, 2 10 inch, 1 8 inch, and 2 6 inch. The 12 and 8 will be torted and filled with strawberry buttercream and strawberries and the other two will be layered with strawberries and buttercream in between. Or I may just make them all 2 layers...whichever would look best. Can I even do this? Please help. Yall really give me hope looking at your beautiful cakes.

I was thinking of doing this cake with a white base and black, hot pink and lime green words and dots and flowers. I may end up doing 5 tiers if I get up too it...but right now Im stayin at four.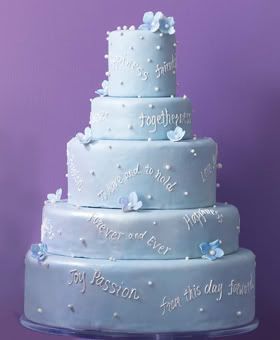 Well I can't really answer all your questions because I'm still pretty new to this too. My FI and I have been engaged for almost three years (had to postpone the wedding twice due to unforseen pregnancies
). Now that I'm into cake decorating I thought about making my own cake, but I decided that I did NOT want that added stress the week before my wedding. I also decided I want cheesecakes. Anyway, I've heard of some brides who have successfully made their own wedding cakes. Since you have two years, you have lots of time to practice and work on any weaknesses you have now. The cake you've picked is really cute and I love your color choices (those are my wedding colors too). If you're having trouble with the MMF, you might want to consider ordering some Satin Ice. It tastes good and is pretty easy to work with, IMO. It's vanilla flavored so it should complement the strawberry nicely. I think a box mix cake would be fine as long as you support it well. Definitely do a practice run. You might find that it's cheaper in the long run to buy your cake from someone else since you're still a newbie. Buying supplies, making practice cakes, time involved, electricity etc - it all adds up quickly. Good luck. If your heart is set on making your own, then I'm sure with practice you can make a beautiful wedding cake!
You might also consider taking some classes since you have 2 years to practice. It would help you learn how to level, stack, consistency of icing, making flowers and borders, etc. I also suggest satin ice or another type of fondant that is easier to work with (anything but wilton). Get a large piece of vinyl from the fabric store to roll it out on then flip the whole thing on top of the cake and peel off the vinyl.
I agree w/taking some Wilton classes, usually offered at Michael's Craft, Hobby Lobby, Joann's Fabric and some other places.

Wilton is just the tip of the iceburg of cake decorating but it give you a firm foundation.
Classes run 4 weeks - one 2 hr class a week usually at night. Course 1 is, of course, the foundation and course 2 builds on what you have learned there. They also offer course 3 and GumPaste (some wrongly call it course 4). You learn flowers, fondant and tiered cakes there.

The cake you have selected is a nice, realatively easy one.
It is *VERY!!* stressful making a wedding cake - even an easy one - so decide if you really want to do this. You have already found some things can go wrong - even those of us who have decorated for yrs run into problems now & then.
Okay, so you need some practical advice to help you with your problems. First off, that wilton mat is the WORST for sticking. Yes, the vinyl from the fabric store is fabulous. Some do the flip. I roll mine out on cornstarch, roll the edge over my rolling pin, lift and drape it over the cake.

Here are a couple of great videos for laying fondant:


The best advice is to hang out here at CC, read the forums, read the articles, and practice....lots, and when your practice runs don't work out, come back here and ask questions. People are so willing to help. I just started decorating cakes less than a year ago and am basically Cake Central taught. You CAN do this. You might be crazy doing your own wedding cake, but you CAN do it! Good luck. I'm sure we'll be seeing you around.