How To Make Those Easter Eggs Krazeekaker Made
Decorating By marjiw Updated 25 Mar 2008 , 10:15pm by 7yyrt
I would love to learn how to make those cute sugar Easter Eggs that krazeekaker made. I wanted to make an ornament for our Sunday School class girls ornament exchange like that but had no clue how to even go about it!
If they are the crystallized sugar eggs, you just mix sugar with enough water until it gets like sand for sandcastles.
If you want a fine crystal, use superfine sugar; if a larger sparkle, just use regular. For a stronger egg, you can add egg white. I don't because too many people are avoiding eggs.
Pack your mold, and level off. Turn over onto a cookie sheet, remove mold. Here you have 2 options: let dry naturally, or use a very low oven.
When you have a dry shell, pick it up and carefully spoon out the still damp sugar mix. Set back down and let it dry the rest of the way.
When both sides are thoroughly dry, add your designs to the inside, and put together with royal icing.
Pipe along the seam, and add any decorations. Let dry, package, and give away.
That's it.

I hope you wanted crystallized sugar eggs directions! LOL
That is what I was looking for. Thanks! So you make the egg in two molds? Do you make your own mold? Does the mold come out easily or does the sugar make it stick? I guess I need a video tutor! LOL!
Oops! Forgot to cut the 'peep' hole in the directions.

After you remove them from the molds, cut an equal amount from each end for the 'peep' hole, and butt the 2 together. That keeps the area from drying out like the outside shell.

The Molds you use are just the plastic eggs. They come in 2 parts. You can buy them at Michaels or JoAnne's or just at the dollar store.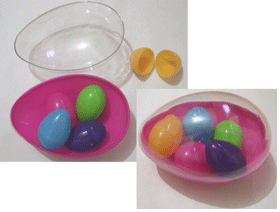 Duh! Why did I not think about plastic eggs!! Now if I wanted to make an ornament would I just find a round mold that is has halfs? Thanks so much for your help! I truly appreciate it!!!!
7yyrt your the best.
Cheers
Leigh
Exactly the same for the ornaments.
You can use the same technique to make sugar cubes and decorate them for fancy tea parties or weddings, as well. Much cheaper than buying them, and you can choose your own size. My daughter's friends used to love those, when she was little.