I just need some ideas on a Power Ranger cake. I have migraine headache and can't come up with any ideas.

Thank you,
Tiffany
There are some ideas in the galleries, but since they are down right now...you can see one of my power ranger cakes on my website. It's the fourth one in my What's New album. The cake on cc that I got the pattern from also had a full size power ranger guy in blue (rather than Mickey Mouse...I know, weird combo).

If it's a sheet cake, you could just do the oval mask really big with the cake "portrait" rather than 'landscape".

Hope you can get some sleep to get rid of the headache!
Here's one I did recently. I got the idea from the gallery here on cc: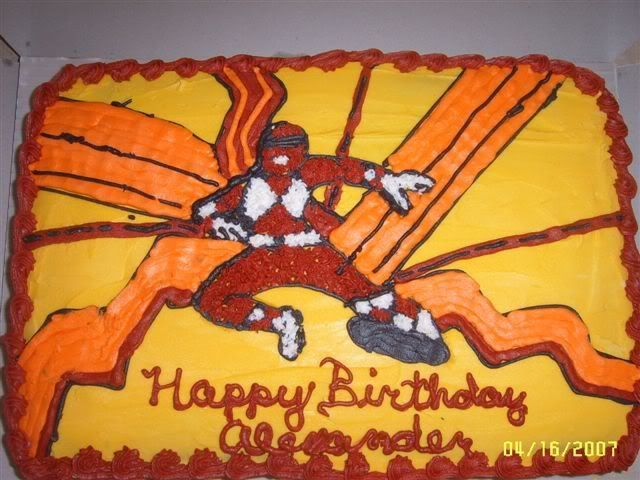 I did a Power Ranger cake last year. I did a FBCT of the red ranger, but replaced his gun with a no. 3 (his age!) and changed the letters in the logo to spell out the birthday boy's name (typically though, after spending ages redrawing the logo with personalised lettering in the same font, nobody even noticed what I'd done!).

The cake is in my photos

Kelly
Thank you, for all you ideas!!
~Tiffany
You could tweak the 3D Spiderman bust cake to make a Power Ranger. I just did the Spiderman and it was pretty easy. You can check out the cake in my gallery and I have the link posted to the tutorial with the photo.
I made one for my son last year. I just used the Power Ranger toys as i too could not think of anything else to do. I got the idea from this site as well. It is in my photos
I also did one recently I used the egg pan to make the head and just used fondant to decorate it. sorry I cant attach it but you can see it in my photos.