Hi everyone!!!! Yes, I've disappeared again for a few days. I'll probably disappear again over the next few days until they leave on Sunday. By the time they go to bed, I'm flat worn out myself!!

My nephews are in from Texas. We are having such a blast. I'm tired.

Here we are corrupting them: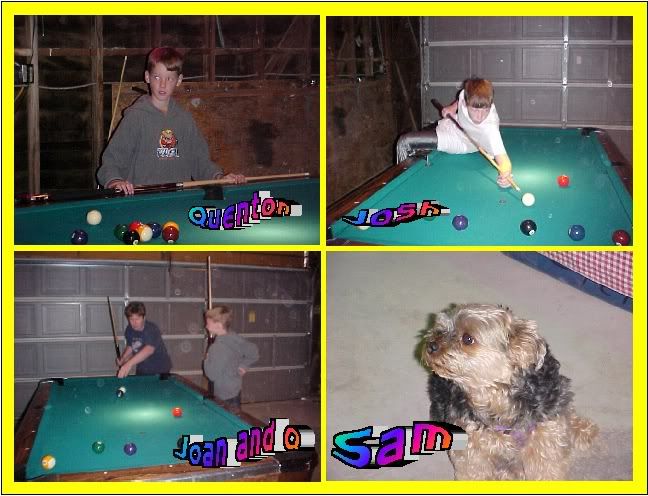 They are actually learning very well. Since they are short, we are letting them lift off the floor.. but they understand these are not the real rules. Other than that... they are becoming little sharks in their own right!! And they are learning the actual BCA regulation rules... not sucker's rules most people know and drive me nuts with.

Oh yeah... never mind the unfinished garage... it's slowly but surely getting turning in to a game room. We need walls!! LOL!!!

We are known as the "cool aunts!" LOL!!!!

(Sam is our boy baby- the girls (kitties) are in the house)
Cool Aunts are the best kind! It looks like they're having a blast. Enjoy your visit and come back to us soon!
Yes, he's a Yorkie the way God intended... before people started shrinking them down. He's a full size (13 inches- although full size is considered 12) and he's 12 pounds... all muscle!!

Right now he is a hippie with that long hair! We normally keep him shaved down (long hair in the desert is not fun!). He has is grooming appointment Thursday... right after his shots appointment... not a good day for him at all...

But he'll finish out the day with a trip through McD's drive through to ease his suffering.....


NO!!!! He's not spoiled at all.... nope- not at all!!
I had one of those shrunk down Yorkies for 13 years. She left this world 3 years ago, much to my devastation. She was the sweetest dog I have ever had and I miss her terribly.

We made the mistake of getting an Australian Shephard for my son soon after that dug a hole the size of Dallas under the SLAB of my house and ripped the satellite dish cable off of my brick wall. He got a new home on a farm with horses.

Then we got a Pom, which we still have. However, my son (6) and I both want another yorkie. I loved that dog so much and am still in mourning.

We kept her hair short too, as the southern humidity is not great on long hair either. LOL
marknrox- aren't these babies just the greatest? They all have the same temperament, regardless of size. Unlike many small dogs, they are not overly yappy and not ankle biters at all.

Our baby started out in NC, so we totally understand the humidity on these little creatures. I feel so badly for the ones whose hair is kept long and dragging the ground. Sam feels so much better after his haircut (although he hates the process of it!). He rolls around and wiggles a lot! LOL!!
Quote:
Originally Posted by cali4dawn


But he'll finish out the day with a trip through McD's drive through to ease his suffering.....


NO!!!! He's not spoiled at all.... nope- not at all!!



My mom's last dog (don't ever call her a dog
) was spoiled rotten. My mom used to say, "she's not spoiled, aren't all dogs treated this way?" When I moved out, my old room became her new bedroom.


Joe
Quote:
Quote:

(don't ever call her a dog )



We don't either! LOL!!

We tell people he has severe birth defects (no opposing thumbs) that other people just don't understand... poor thing.. constantly discriminated against.. can't into stores or restaraunts...... The shame of it all.
Sounds like you would love it here in Germany.... there are dogs in resturants here... they are permitted on public trans and everything.... of course our babies would never last doing that... they arent that well behaved... I can say that about the German dogs here, they are very well behaved, dont bark growl nothing, heck wont even lift their head when you walk by with your dogs.
My spouse's family is from that area and go back every year. I always hear about the dogs in the restaurants. Sounds fun to me!!