Has anyone tried the new adjustable crisp corners contour comb by Evil Cake Genius? It is a scraper with a horizontal piece that is adjustable for the height of your cake, so it smooths both the side and the top at the same time. Evil Cake Genius has so many awesome products, this one could be my first purchase.
No but I am thinking seriously about it! When I think of the time it would save...um, yeah. Let me know if you try it and how you like it!
I have it, but haven't used it much. In the demo video of it, she places the cake on an acrylic cake board. And you really need to do that. I tried it just sitting on a regular cake board and it didn't do what I thought it would. I need to try it again with the other board. And it's a little heavy since it's stainless steel.
I have been lusting after that thing! Looks wonderful!
I'm looking at this one. Cheaper and good ratings.
https://smile.amazon.com/gp/product/B074YG4D37/ref=s9u_simh_gw_i3?ie=UTF8&fpl=fresh&pd_rd_i=B074YG4D37&pd_rd_r=1J09ERF215PG9QRYYT31&pd_rd_w=Q5f9O&pd_rd_wg=H4ygK&pf_rd_m=ATVPDKIKX0DER&pf_rd_s=&pf_rd_r=VM51QDMFPF36P5N80H4Z&pf_rd_t=36701&pf_rd_p=f719e185-4825-42a4-9507-9df1a19229d6&pf_rd_i=desktop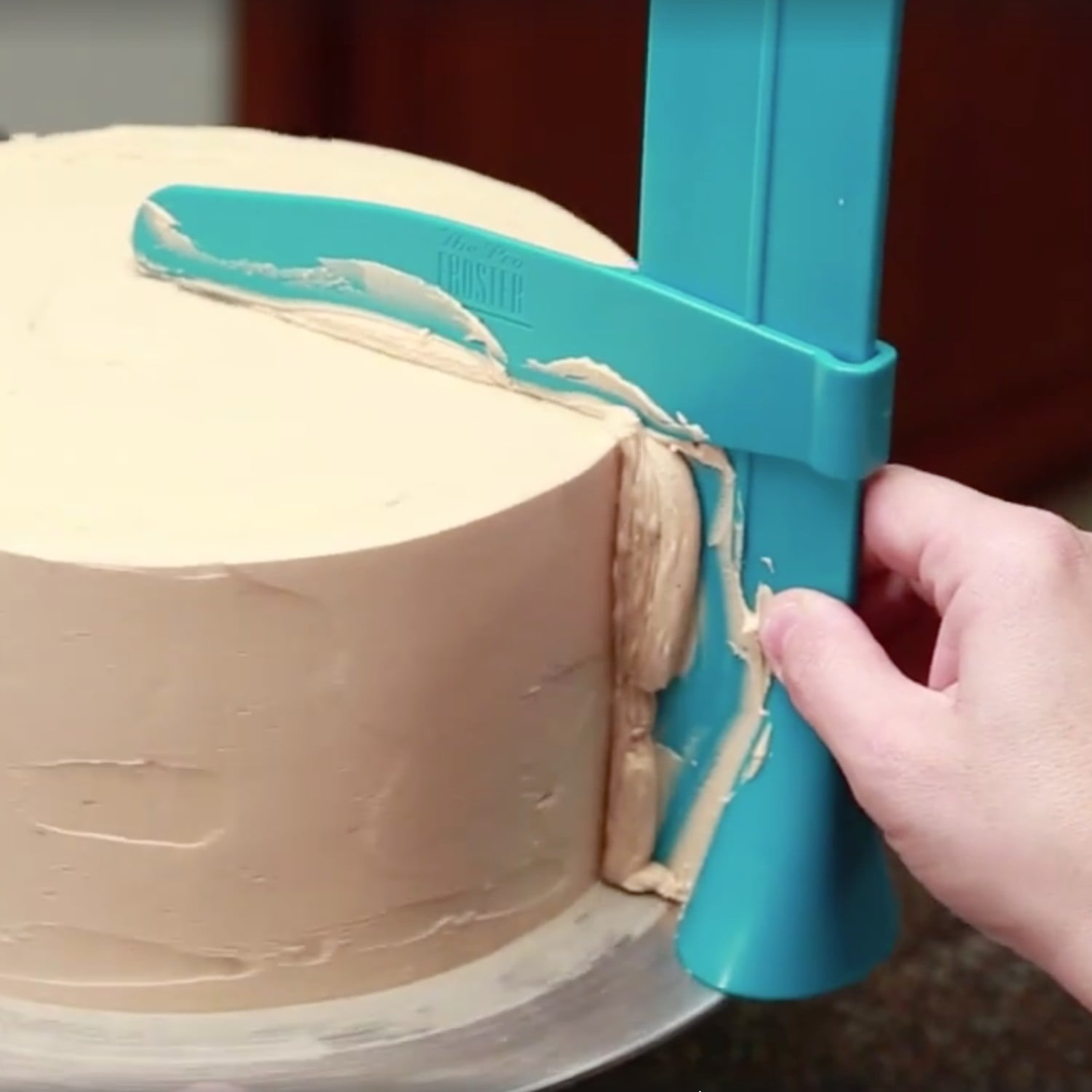 Hmmm, the reviews are good. Might have to consider this one. I've been thinking of ways to rig one on my own before making a purchase. Me thinks a trip to Harbor Freight is in order. :-)
I use cut up poster board into little squares like cake boss showed. It always seems to get my cakes very smooth. Since I started using them I don't have any issues smoothing out cakes any more. It is very flexible and works wonderfully.
I've seen the plastic one, too, and at half the price of the original by Evil Cake Genius. Honestly, I am holding out for the metal one because I don't see the plastic being strong/stable enough to do as good a job.
I use a tool that is designed for sewing. I cannot think what it is called but it works great for the sides. I am in the process of purchasing the acrylic discs.

Bought this several months ago. I'm sure there is a technique to using it and achieving good results, but I've yet to discover such a technique. It is also kind of heavy, thus making it difficult to handle if you have small hands like mine. Would be interested in hearing if anyone else has made this purchase and how you're doing with it.
I bought it and threw it away. It was way too heavy and awkward to use, an I just couldn't get the hang of it.
That being said, I do LOVE them and most of their other products!
I bought one recently and gave up on my first attempt at using it; I couldn't get the hang of it, despite watching demonstration videos, and just messed up the ganache. I was hoping someone may suggest some tips.