I have a wedding and am making cupcakes tomorrow night. I just tried a sample in the purple glassine liners that I ordered special for this. They are sticking really bad to the cupcake and it tears when you take the paper off. I don't know what to do. They wanted purple and there's no store nearby.
When I called Country Kitchen, they suggested my recipe might be too moist and that I could somehow alter it to make them stick less. Any thoughts on this? My recipe right now calls for a cup of sour cream in it along with 2 tablespoons of oil. Is there something I can cut to make it work out better? I'm really freaking out here. I thought about spraying the liners but I don't want them to look or feel greasy and I want the liners to stay attached to the cupcake.
HELP!!!
Bake them in white paper liners. Place each baked cupcake in it's white paper liner inside the purple liner. Tell the wedding party this is a new way to enhance the wedding cupcake presentation.
http://bakerstreet.tv/2012/04/piping-101/
Ever wonder how people make their cupcakes look so pretty in photos? It's simply by using double liners. Bake the cupcake in one liner, and then before frosting slip them inside another liner. You can see what a huge difference it makes.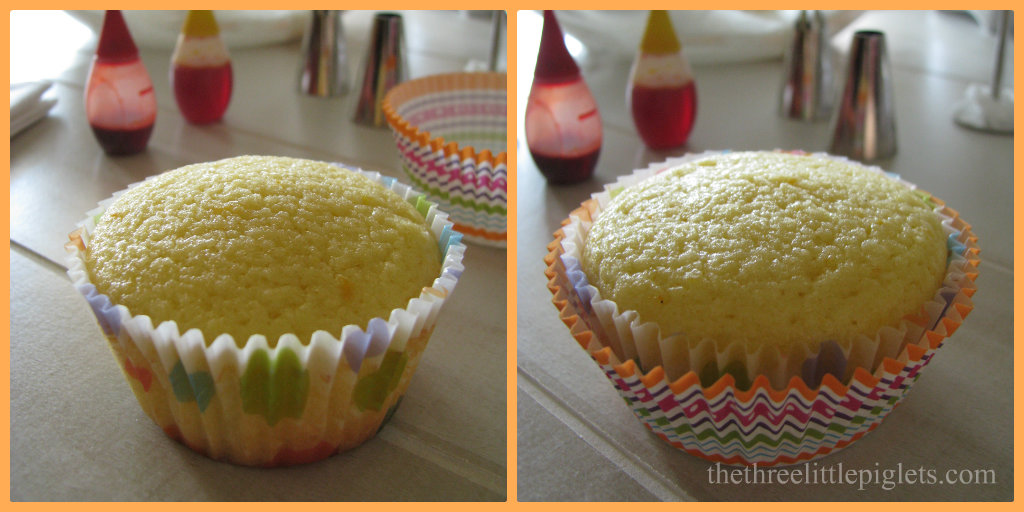 You can use complementary or contrasting colors to enhance the look of the cupcake
* * * * * *
Here's some more examples:
http://cakecentral.com/g/i/3182869/a/3450238/minnie-mouse-cupcake-tower/
http://www.crazyforcrust.com/2011/05/brownie-cupcakes/
OR
Do a practice run with 2 liners: bake in a double liner (inner white liner filled with batter with 2nd, outer, purple liner touching the pan)
scroll down the following link to see an example:
http://www.kingarthurflour.com/blog/2009/02/20/irish-bread-american-style/
Typically, batters low in fat will stick to paper liners, so adding more oil might work. But Apti has a great solution. Given the short amount of time, that would be my course of action.