AHas anybody ever done a rosette cake without putting them on the sides? Pictures? I have a horrible time getting my rosettes to look right on the sides, so I was wondering if there was a way to make the sides look good without putting the rosettes.
Do you mean buttercream roses on top of fondant or on top of buttercream cakes? Since I have never done fondant I can not comment but I am sure others here who have more experience will be able to tell you how. Most people use the 1M tip for making buttercream roses. I have done them on top of buttercream cakes only. There are several tutorials on You Tube that can show you how to do the roses. Good luck, You can do it!!!!

ALike on top of butter cream, except mine will be whipped icing instead. :) And thank you, I hope so!
Nothing to stop you doing the rossettes only at the top. its nicer with the rossettes on the sides as well.
If you Google "rosette topped cake" it'll bring up a lot of images for you. Here are a couple.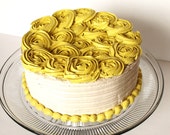 ES329 here is the one I did. Hope it helps