Hi there, found this site through googling and was just wondering...

I've set my self the seemingly impossible task of making a Mickey Mouse cake for my sons 3rd birthday (in 2 weeks - ARGH) I decided it would be easier to paint the actual cake, after research, rather than model different icing, so I bought Ivory coloured paste (for Mickeys face) and it wouldn't "melt" in the rejuvenater (sp?) and I figured it was a cheap brand, but even when I got it to mix it went orange :/

So I bought Sugarflair Peach, and the lady in the shop showed me the "darkest" it will go, which is the exact colour I want... but it doesn't. It also went a funny sort of Orange! (I used 1 drop from a cocktail stick and a drop of rejuvenater) it mixed very well, but still the wrong colour?

I'm starting to panic and not know if this is going to go horribly wrong and I'll have wasted so much money buying all these colours/brushes/icing and worst of all - getting my little one's hopes up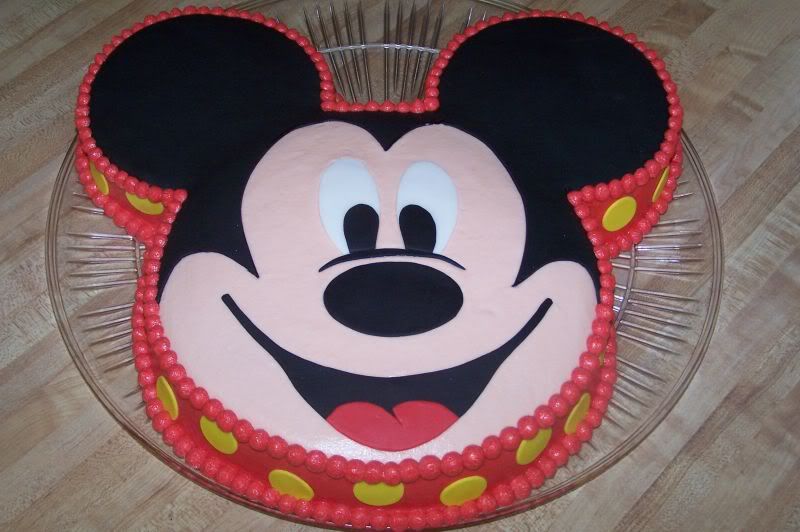 (This is sort of what I am attempting - that's the face colouring I want anyway, or as close to it as I can get!)

Sorry for the massive newbie post and thank you for reading x[/img]
Not sure what "rejuvenator" is.

However, many of these colors are designed to tint white frostings and buttercreams. They are highly concentrated and tinted to show their best color in a white based medium. Light peach, like you are looking for, does come as a coppery/orange tint. In white buttercream it goes to a light skin tone in small amounts.

I would try a frozen buttercream transfer instead.
Frozen Buttercream transfer. Get a black and white drawing of what you want, in this case Mickey Mouse. Then, mix up a big batch of frosting and break it up into different colors that you need(black, white, red, light peach.

cover the drawing with a piece of plastic and then trace the drawing with black frosting, or whatever color you prefer.

Fill in the tracing you just made with frosting like a coloring page. Stick it in the freezer to firm up. Add more frosting to beef up the thickness of the transfer and put it back in the freezer.

When ready, take it out of the freezer and tip it over onto a frosted cake. Peel off the plastic and you have a frozen buttercream transfer that will thaw on your cake.

It can be made way in advance.

Google the method for videos and tutorials.
I would frost the cake in buttercream that is colored with flesh color. Wilton copper gives a nive peachy skin when added to white buttercream.

Then I would make a template for the black, red and white parts and cut them from fondant. You will get a much crisper color and it's easier by far.