I was shown a picture of a 3 tiered topsy turvy cake and asked to give a quote for the price. I of course asked for how many people and she said 8 (EIGHT, LOL!) I don't have experience with tOpsy turvy cakes but I figure it's time to learn. Anyone have any suggestion for pan sizes for a smaller tt cake? Would a 8, 6, 4 work? I'm not even sure what to charge for this. It's fondant covered, zebra striped with a few other embellishments. Any advice would greatly appreciated!

-D
Well, an 8/6/4 will serve at least 38................are they willing to pay for that?

There is no "8 serving" topsy turvy cake, as that would be about a 4/2/1............basically an oversized cupcake, a regular cupcake, and a petit four on top


My minimum for a topsy turvy cake is $125...........

I'm not being a [email protected]$$, but asking for a 3 tier, stacked, cake--of any sort--to serve 8 is ridiculous. Heck, a 6" round has 12 party servings in it................just sayin'.

They may want to revise their request and accept a larger, more expensive cake with leftovers OR invite about 30 more people to the event.

Rae
LMBO.........Blakescakes, you are so right!! They must have lost there mind for a moment, asking for such a thing,...smh.
Quote:
Originally Posted by
BlakesCakes
Well, an 8/6/4 will serve at least 38................are they willing to pay for that?
There is no "8 serving" topsy turvy cake, as that would be about a 4/2/1............basically an oversized cupcake, a regular cupcake, and a petit four on top
My minimum for a topsy turvy cake is $125...........
I'm not being a
[email protected]
$$, but asking for a 3 tier, stacked, cake--of any sort--to serve 8 is ridiculous. Heck, a 6" round has 12 party servings in it................just sayin'.
They may want to revise their request and accept a larger, more expensive cake with leftovers OR invite about 30 more people to the event.
Rae



You pretty much hit that on the nail! LMAO! That was exactly what I was thinking but Im trying to be accomodating (MIL's good friend) but grief I can't always pull magic out of my butt, not that I have a ton of cake magic anyways. People see these great cakes on TV and then want one for their 5 y/ olds birthday party and expect to pay $40. I would no way do the cake for that cheap, I'm just wondering about practical pan sizes for a tt cake on a smaller scale. Also, I'm not running a business (someday, maybe) and I am no where near the expertise that you have with cake decorating!

D.
BTW, I'm still laughing my butt off. When she told me the servings I was like....did you just say 8 or 80? I kept telling myself there has to be weirder cake requests out there.....
Oh, I definitely understand. It becomes a matter of educating the customer. Whether they appreciate the tutorial..........well, that's up to them.

Truth is, there are no "practical pan sizes for a tt cake on a smaller scale". An 8/6/4 is about as small as you'd want to work on..........and that's at least 4 times more cake than they've requested. So...........the ball's in their court.

Personally, I don't like working in extreme miniature--and that cake would qualify. Lots of tiny fiddly bits to deal with, scale, etc.

Industry standards aren't big wedges of cake. If an 8" round yields 20 party servings per the charts (a 1.5x2x4 piece), in the average American kitchen, it's more like 10-12 wedges. We just have to have a standard for serving numbers AND charges/costs. If the client wants larger slices, they can't exactly pay less for the cake--they need to buy a bigger cake.

I tell people all of the time, you can want what you want...........you just might not be able to get it.

Rae
Thanks for the advice, Rae! I'm thinking she will tell me to take a hike after I give her a price, though ya never know these days....

D.
Yes, there are specialty pans. I don't consider them "practical", though.

http://www.suppliesforcakes.com/shop/cake-pans/mini-round-whimsical-cake-pan-set/3/

I suppose if a client wanted to fork over the $22 + shipping for a set of pans that I'd likely never use again AND pay my minimum of $125 for a topsy turvy that would be dandy


For all intents and purposes, you could just bake 8, 4" cakes and carve away.

If you want to do something, there most likely is a way to get it done.

I just hate to reward impractical requests. It trains people to come back next time and ask for an anatomically correct unicorn that serves TWO...........


Rae
I'm over here hee-hawing like a donkey. After the lady verified that it was indeed EIGHT servings that she wanted, she also said it had to be 3 tiers. That's the moment I thought it was a joke and I was being punked...

I think we should scratch the cake and I could make these instead:
http://www.instructables.com/id/Unicorn-Poop/

D.
OMG! Now I'm laughing so hard I can't type straight. I absolutely love it!

Good Luck!
Rae
I have the mini topsy turvy pans, I have used them for Mini cakes , mainly for family or as a mini to go along with a large cake.

I have an order minimum , that I state when people order with me. They can have a smaller cake but it will still cost them the minimum charge.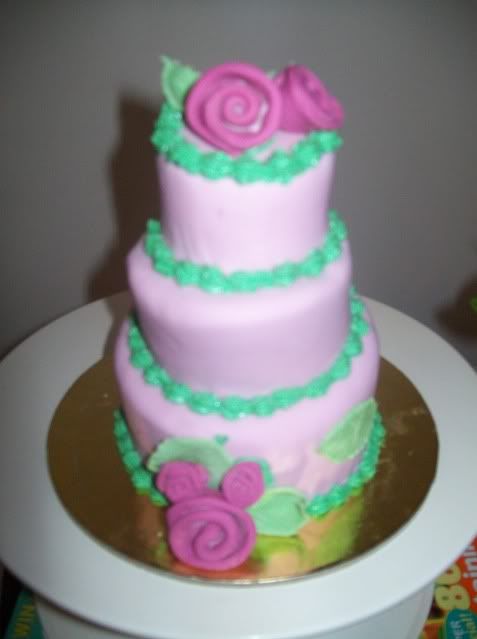 this is done with the mini tins , I helped my five year old niece decorate it .

it is the only photo I could find on this computer using the mini tins. For a five year old she did a pretty good job.
The smallest I would go for a carved topsy turvy would be a 6" carved to 4" on the bottom. I've had a lot of trouble with the smaller topsy tiers, so much so that you would have to pay me a PITA fee on top of usual price. My topsy here http://cakecentral.com/gallery/2312230/topsy-turvy-wedding-cake was a 6"/8"/10"/12" each carved to 2" smaller on the bottom. The top two tiers were almost a disaster as they kept wanting to collapse when the fondant went on. In the end I had to take them of their boards and make them shorter and the bottom boards bigger. Nightmare!!