I noticed that alot of the internet pics show really smooth balls of cake, does anyone know how this is done exactly. I have a small scoop I use, then roll them in my hand. I think my chocolate is still too thick. I have yet to use candy melts, have just been using the barks, and putting Crisco shortening in to thin. Any ideas for me?

Thanks in advance

Sonya
The cake balls you have seen may have been made from a machine or a special pan, not using the frosting method that you described.
A lot of people double dip.
Leah, that makes sense, and so does the machine comment. I double dipped the second batch I ever made because my cake balls were too cold and the first dipping cracked the chocolate. I am still wondering about the thinner chocolate tho, any ideas on that?

Thanks again
I use Merckens and sometimes even have to thin it with paramount crystals.

I have the Cake Pop Easy Roller - second biggest waste of money in all of my cake tool purchases.
Yeah, I have seen that machine, but I am not going to pay almost $200 for it, I would rather hand roll them. Have you ever used the chocoley dipping wafers? I hear they are awesome, but very expensive on their website. I am going to try CK wafers this week, and even purchased Paramount Crystals for them, I guess only time will tell.
What are Paramount Crystals, please?
I've made cake balls/pops a few times, but I never made anything I would actually serve (and it would only be to family btw, but still)...

Then I tried these: http://www.chocoley.com/badabingbadaboomdippingandenrobingformula.htm
Of course I learned about it right here at Cake Central...digging through old threads.

For the first time, I had success!
I didn't make anything fancy, very simple, but I wouldn't be embarassed to hand them out.

I purchased the dark, milk, and white...
They melt like a dream...completely smooth and wonderfully easy to work with.
They don't taste like high-end chocolate as the site says, they taste like regular mild candy melts.

They are more expensive, but for me, I wouldn't need them often, so it's fine.
Also, there are constant coupons and promotions going on...I literally get an email with a special sale offer every other day.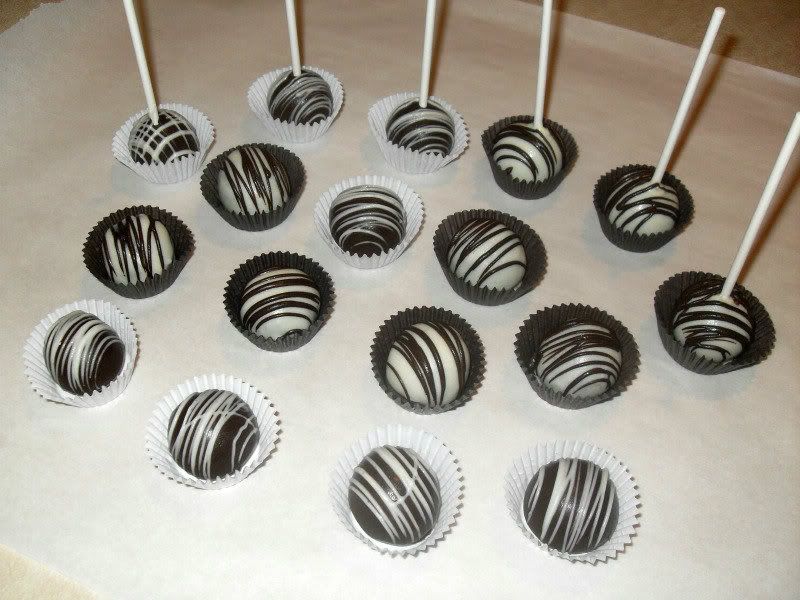 OK, Flourpots, I am SOOOOOOO jealous. Your cake balls look awesome!!!
I would love to try the chocoley melts, I am going to buy 5# today, they have a $$$ back guarantee if you don't like it. I already printed out a wholesale form to use later. Nice job. What is your secret, if I might ask, on getting the balls so round, they look amazing? Thanks for sharing.

Jeartist, paramount crystals are solid pieces of shortening, they almost look like large coconut flakes, I have used them before, they are awesome for thinning out chocolate bark. I bought a 4 oz. bag for under $3 thru Countrykitchensweetart. I love their site.
Thank you so much, sfandm!

I should clarify...these aren't technically CAKE.
They're Oreo truffles.
I don't like the crumbled cake + frosting combination. I tried it that way only once. After that, I've only made the Oreo kind, but I never call them that. I always call them "cake" balls or pops.
Sorry to mislead.

As for the roundness...I don't do anything special really...
I use a Tablespoon in one hand, and a butter knife in the other...
With the knife, I scoop up the mixture, put it into the spoon, level it off, and scrape out the blob onto parchment.
I wait to roll till I have the entire amount measured out since it's messy.

I hand roll, then refrigerate for up to 2 hours, then I re-roll slightly...they keep their shape better after they've been chilled.

When I dip I only bring a few (less than 5) out of the fridge at a time.
I don't like the frosting method either. I have been using my mousse and cheesecake filling for most of the ones I have been experimenting with.

I never thought about rerolling the ball once set in the fridge. Good idea, and I like how you only take out a few at a time.

I use my small scoop and level it off, I get uniform 1-1/2" balls every time and can get about 50 with a batch, more when I use the WASC recipe. I also roll in my hands as I go, may try your method tho, with rolling at the end. Good tips flourpot, thanks again.

Sonya
I find you can only get smooth balls when the consistency of the mix is right. I get cracking if it's slightly dry, so add more frosting a little at a time until it's good. I do all this in a stand mixer, and let it do all the work bringing the mix together into pretty much a ball of dough. Then I portion with a scooper like you, release onto parchment, then roll between my palms, compacting a bit if I need to. They go in the fridge til they need dipping, and like Flourpots I literally take out 3 at a time. And I only do them on sticks cake pop style...the dipping balls with a fork thing just drives me mad!
I hear you dayti, I don't like the fork method either, I found an 8 pc. set of candy dipping tools on ebay for $4 with free shipping and ordered two sets, they are awesome. I will also try the 3-5 at a time method. I like both the cake pops and cake balls, so will keep making both.

Keep the suggestions coming, I'm taking notes.
I'd love to try the EZ roller. Just a hobbiest, so does anyone want to sell one cheap (then write off the rest as a business expense?!)