I'm making a Very Hungry Caterpillar cake (similar to the one below) for a friend's baby's 1st birthday this weekend. I have to put the cake together on Friday night, deliver Saturday morning and the party is Sunday afternoon. She wants white buttercream, not fondant on the cake. I'd like to use something like candy fruit sours or gumballs for the balls around the bases of the cakes, but I'm not sure if the color would bleed onto the buttercream? What do you think?


Definately use Sixlets candy. They are very pretty, exact in size, colorful and delicious
Any candy you use should be fine, particularly those that are sugar-coated like gumdrops, or hard-shelled, like gumballs.

That cake is precious. Don't forget to post a picture when you're done!
I don't use gumballs or hard candy with little kids. That's the only reason I suggested the sixlets. They are like bog round M&Ms . Easy for a little kid to bite.
I think you'll be fine. You might get a little bit of color transfer when you take the candy off, but I don't think you'll have color running down the cake and messing up the design. I love the gumballs used on that cake, but yeah, something more little-kid-friendly would be my choice, too.
Maybe it would be safer to make balls of candy melts (merckens if you can buy them). They won't run and they won't be a problem for little kids.
I just made a cake using sixlets (the ladybug cake) on a
BC cake. There was no color bleeding from the candy.
I did not keep it in the fridge though because I was
Concerned that the change in temp would cause a problem.
Thanks for all the suggestions everyone. I did end up using the fruit sours simply because of the size. If I could have found sixlets that were about 1/2" in diameter, they would have been perfect.

Since I'm friends with the mommy of the birthday boy, I knew that this was going to be a fairly small family party with no other little ones there, so I wasn't too concerned about the candy. He got his own smash cake with just regular icing and no candy, so I felt pretty safe there.

Here's the finished product: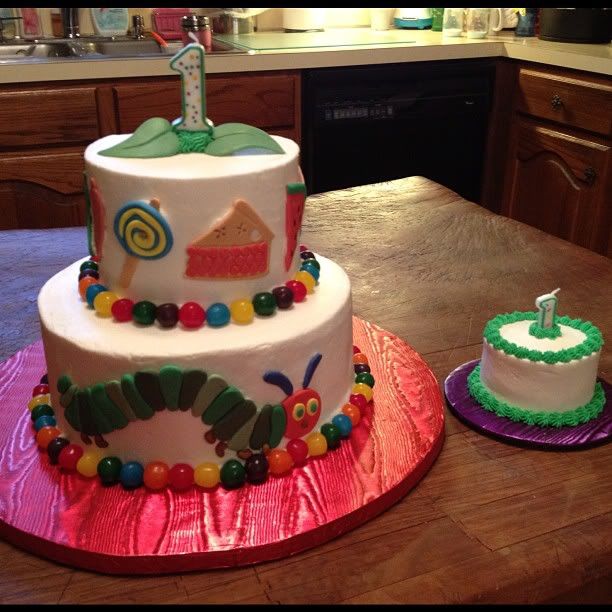 Adorable! The fruit sours were the perfect size, you're right.
So sweet! The decorations are spot on adorable.