So I've been doing cake pops lately but not really birthday cakes. But willing to do both for a client since it's a small cake. Questions are...

How do I price the cake out?
Also how many servings will this provide?

She wants a 9" cake in chocolate with something similar to this: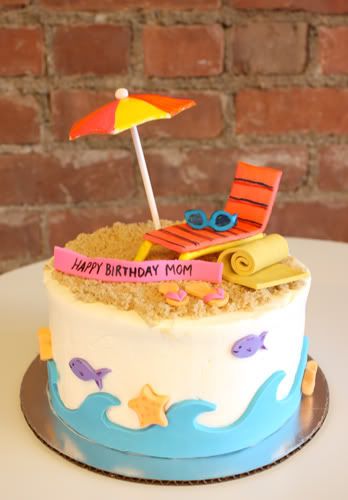 Also the cake looks pretty high compared to a regular 2 layer cake. Do I need to bake 2 separate 9" cakes and then tort them so there's 4 layers? Or will baking one cake and torting it into 2 layers will be ok?

I plan on using this recipe:
http://cakecentral.com/recipe/durable-cake-for-3d-and-wedding-cakes

Lastly, so decor questions....
The seats, towel etc I can probably make out of fondant and let them dry....but what about the umbrella top? Do you think making it out of fondant and then using candy melt to stick the stick will work? Dont have any gumpaste and never worked with it...so hoping I can still get away without having to use it.
Also it's a request but dont have to do it...they are taking a school bus to the beach. How could I somehow add a school bus to the cake...but dont see how and where I can add to make it flow?
Dry the umbrella over a balloon or ball pan. YES you can use the same fondant as for the seat.

This cake in the picture looks smaller than 9" so it looks "tall". Make a regular 2 layer 9" cake and just use a little more icing between the layers, it will look fine.

Price: depends on how easy you find it to work with fondant. Make a pattern for the wave with a strip of parchment paper folded into 8 so you get the waves to fit around the first time.

That "sand" is brown sugar stuck down with some of your buttercream filling.

School bus? Why not just print some copies of a picture of a school bus on paper and lay that on the table before the cake goes on top? Because the kids are going to run to the beach and forget how they ever got there...
Thanks for the reply...some great advice which will surely come in handy when I make the cake. I've worked with fondant and this wont take too long, but I dont want to undercharge or overcharge.

When you say make a regular 2 layer cake....do you mean basically bake 2 separate cakes? Or just one? This recipe yeilds quite a bit of batter, so I'm not sure if it would be too much for one 9" pan or too little for 2 9" pan. Also how do I find out how many servings I will get from this?

Thanks so much for the help!
Hi, I am new but here's my suggestions:
For the umbrella I would take a styrofoam ball and cut a circle of fondant mixed with some tylose(Fondant+Tylose= Gumpaste) it helps it be more sturdy especially for something that will be extended out from the cake so it doesn't wilt. Anyway take your circle and form it around the styrofoam and let it dry then you could paint it with some petal dust mixed with lemon extract and use a thin dowel once it is dried and attatch it to the bottom of your umbrella and then insert in in your cake.

For the school bus I think maybe if you put something cute saying on the side in lou of headed to the beach it would totally bring it in. Maybe you could even do it in a funky color so it doesn't seem so school related.

For the heighth of the cake it really looks like 3 nine inch cakes to me that have been torted and filled. In that case wilton's chart says that a two layer 9 inch feeds 32 people so if you did 3 9 inch that would be: 32(because of 2 of the layers) + 16(because you are only doing one of the second two layers, if you done four nine inch then you could just do 32 and 32 but you have to do half) so you could get 48 servings from the cake. I normally charge just as a rule $2.50 serving for buttercream and $3.50 serving fondant.

Hope this helps and happy caking!
Bake one recipe of your cake. It will fit exactly into two 9" pans or one 9x13 sheet pan. For chocolate, use chocolate cake mix and chocolate pudding mix.

The general rule for servings is 12 dessert sized pieces from one cake mix. That is pieces of the size that you get when you go into Starbucks or Second Cup or a restaurant. For children, you should count the same size because they LOVE cake.
I think you will also want to make sure to tort the layers so it ends up being 4. It gives more height plus people enjoy that there is more filling inside of the cake.
It is most likely a 4" tall cake. It's up to you on how many cake layers you want in it. I personally bake 3 one inch cake layers and fill with 2 layers of filling. I would price a 9" round as 26 servings and for this cake would price it at $4.50 per serving.