Hello everyone

I've been asked to do my cousin's wedding cake and she really liked the look of this cake:

http://www.marthastewartweddings.com/231247/fabric-inspired-wedding-cakes/@center/272453/wedding-cakes

I don't necessarily need to recreate a specific fabric, just that sort of general look. Would you use gumpaste or fondant or sugarveil for the appliques? Additionally, this is going to be for an outdoor wedding in early July so I'm thinking chocolate molds, etc. are out of the question.

I will also be transporting the cake for a 5 hour drive before the wedding and will probably need to place the appliques when I get there, and will need to make them ahead of time.

If anyone has any ideas or suggestions, I would greatly appreciate it!!

Thanks very much.
I would use mexican paste , it would stand up better outdoors I think.
I would use gumpaste. It looks like there cutouts and outlined with royal icing.
I did this one using fondant with a bit of tylose added, cut with the JEM Jacobean cutters and various flower & leaf cutters in order to create fantasy flowers. You could outline them in royal. I used royal to connect them and pipe small details like flower centers.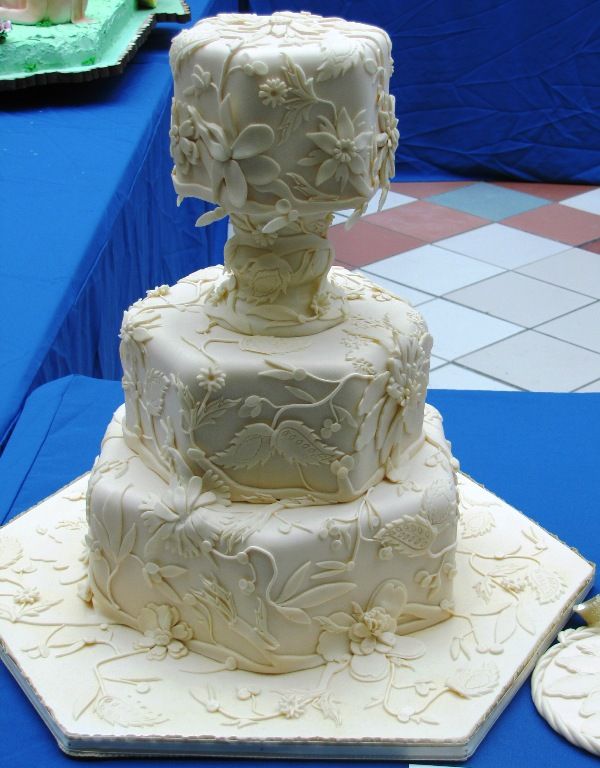 Rae
Dang, Rae!!!!! That is GORGEOUS!!!!!
Rae, that's [i]exactly[/] the look I was going for- that's amazing!!

I will definitely try to get a hold of those cutters, where are they available? Thanks so much.

And thanks, Ashleyssweetdesigns, I think you're right- the extra touch is added with royal icing outlines. I think I definitely have a better idea of what to do now.

Thanks everyone!