Bride likes this design.
Looks like about 5 million dragees and sugar pearls glued on individually to me (slight exaggeration, probably only 4 million.
just kidding.)

Just wondering if anyone has any ideas on how a less time consuming way to decorate this cake.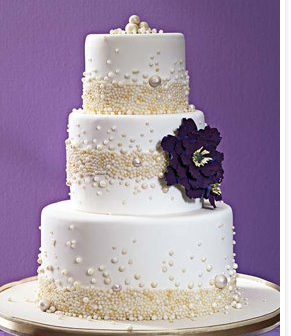 The only dragees you have to place individually would be the bigger ones and there aren't so many of those. I would take a thin wavy (at least not straight) band of fondant and paint it with piping gel, then just press it onto a plate full of the small dragees (assorted colors) then attach that to the cake. Then you just have to finish up with the larger ones.

It won't take so long - actually, there's only about 1.5 million of them.


HTH
AH, excellent idea. That's why I come here to ask the experts!! Thank you SO MUCH!
I just did this cake, I used pearls and I piped some dots, but it still took along time!