Hi, New here and I have been reading like crazy. For some crazy reason I decided I could make the cake for my friends Baby Shower. Other than throwing some box cake mix in pans and putting canned icing on it, I have not had any real experience in cake decorating. But I had been reading about MMF and thought I would give it a try. I was home sick a few weeks ago and had all the ingredients in the house so I made a test cake and it didn't come out too bad, so I offered to make the cake for the Baby Shower.

The shower was yesterday and here is what I did. I am actually pretty happy with how it came out for my first real cake.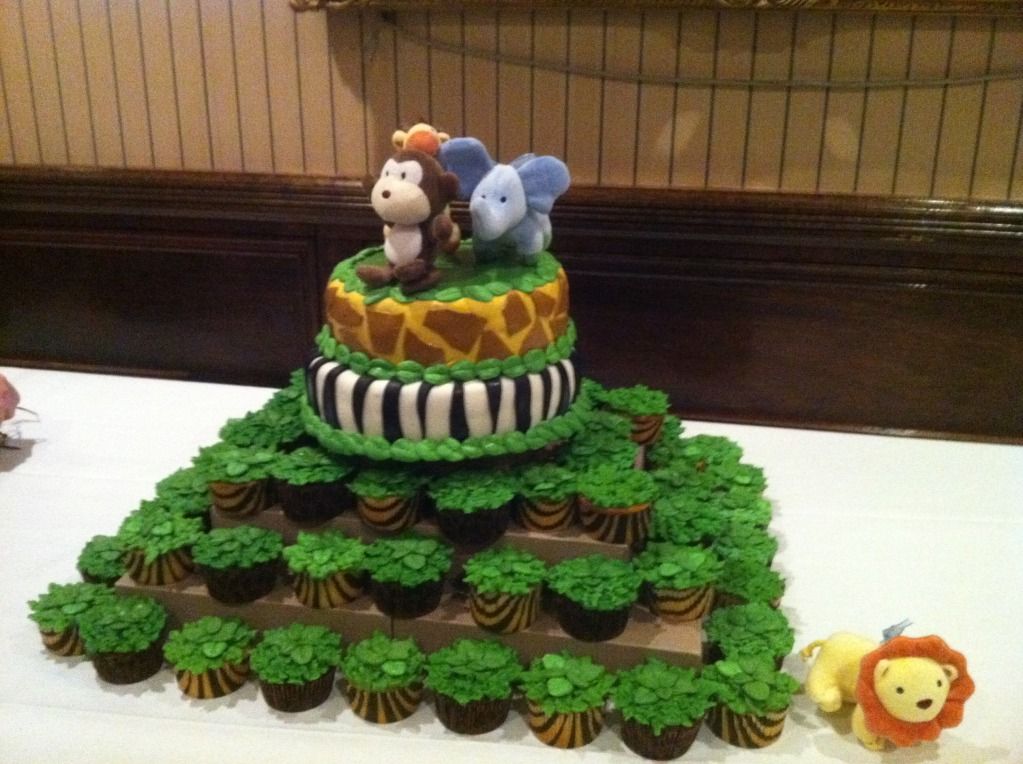 My question is after making the MMF, I had a lot of powdered sugar dust on it, I was so afraid of it sticking I think I over did it, is really showed up on the black zebra stripes. I ended up brushing everything with vodka because I read some where not to use water on fondant. That did work but and took the dusty look off the cake but I was wondering, is that what I should have done or is there something else for this issue. The first test cake I did I had covered for a day or two and after about 24 hours the powdered sugar dust absorbed into the cake, I am pretty sure it was more humid those days and I was hoping that would have happened with this cake, but it didn't. Brushing it with vodka worked but made it a little more shiny than what I wanted and I learned I needed to be very careful with the black stripes.

Looking forward to reading a lot more and learning some great stuff from you amazing people. The cakes on here are incredible!
You can spread a very thin layer of shortening on the fondant to absorb the powdered sugar. It will be shiny but the fondant will absorb it and it will disappear.

If you have a clothes steamer you can also use that to get rid of the extra powdered sugar.
Thank you. I also need to learn how to use less powdered sugar, I had it everywhere




My dogs were hyper for days from licking it off the floor
A little vegetable shortening on your finger or a paper towel will get rid of the powdered sugar dust.
WoW! Great job! There is a business in the area that would be doing a lot better if she could do cakes that nice.
I usually use one of those BIG make up brush to dust it off, it works for me! ( my brush is only for cakes, I bought them a long ...long time ago, never used them, but now they are very handy!)

CIAO