Okay, professionals...has anyone here done a Lambeth method (with drop lines) and moved it more than a few miles without breakage?
Hi,

Oh Wow!! I would like to know too because I'm taking K. Lange Lambeth Class next week and I'm eager to learn. This technique looks so awesome!!
Yes, but only as a dummy.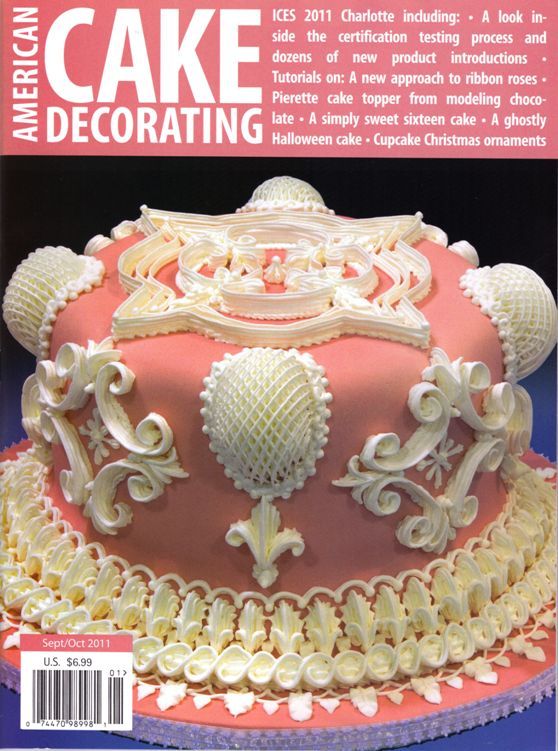 This cake moved all over the East coast without any breakage.

That said, if it's going to be on real cake, it needs to be a sturdy cake on a sturdy board and when it's being transported, it needs to be done so that the board doesn't flex.

Royal icing is like concrete and when it adheres to itself or fondant, it just gets stronger.

It can be done.

Rae
Wow Rae. Did you do that cake? It is very beautiful. I have never heard of this method, but I will have to look into it.
Wow Rae. Did you do that cake? It is very beautiful. I have never heard of this method, but I will have to look into it.
That dummy is beautiful. I really want to know experiences on real cakes with all of the fine drop piping. I have done them, but don't offer them freely to customers because of breakage. Anyone?
That cake is off the chain!!!!! Beautiful Blakescakes.
Rae, didn't know you had such awesome Lambething skillz.

I have been looking into taking a Lambeth class for a LONG time. I really need to practice my string work though. And it's been, oh, a bajillion years since I've worked with royal icing. LOL
I've moved my Lambeth cakes too. If it can make it a mile, it can make it several. Like Rae says, if it's real cake, make sure the cake and the board are very sturdy. Those style cakes are really heavy with all the over piping on them.
High, i was wondering if you know where I can find instructions on the Lambeth design and pans?

I have a set and this information would help a lot!
The original Joseph Lambeth books have instructions but these are now hundreds of dollars (they're out of print and William and Kate's wedding kicked up a lot of demand). Toba Garrett has some examples in her books too.
Thanks, the pictures I see do refer to William and Katie's cake. Beautiful! I wish I had the skill. Some of the instructions I seen actually use the "pizza" pans as the base. Thanks for the advise on using a heavier cake. I love fruitcake!

I also have a set for sale, I bought an older ladies supplies and she had multiples of everything!