Does anyone know of existing instructions for building the frame for a standing motorcycle cake? Im fairly certain I can figure it out but would love it if someone else already did that LOL

Thank you in advance for any assistance
hi i thing the is am epesod on cake boss... tray looking it on youtybe
I did a motorcycle cake a couple months ago. Here is the frame my husband built for it. The board was MDF and the smaller pieces were the actual cake sat was bass wood from Jo-anns. I cleaned the pieces and also put the cake on trimmed boards so it never touched any wooden pieces. Hope this helps.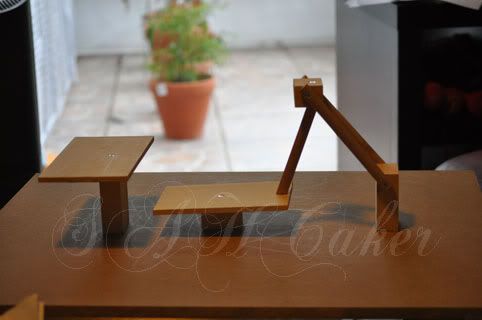 This is the finished cake replica of a Honda VTX 1800.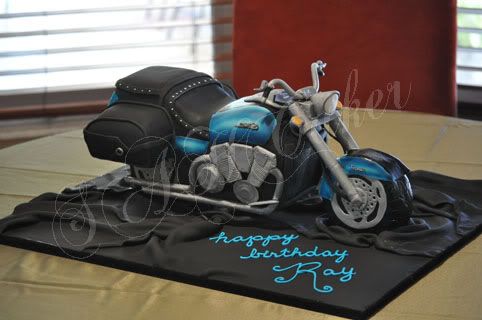 Oh thank you so very much
my email notifications werent working so i never knew anyone responded. I am so grateful for the help
SAHCaker, that's an amazing cake! Wow!
momma28: Glad it was helpful.

ajwonka: Thank you!
Hi, I know it's been a while since this thread has been commented on, but I was wondering what the dimensions on this cake stand were. You did an AMAZING job by the way
! I'm going to my brother's wedding this July (He's in CA I'm in FL) and he wants me to make a cake that looks like his 98 Dyna wide glide Harley for his grooms cake
, so I need to send dimensions for the stand for him to make for me since I'm getting there only 5 days before the wedding
. Is there any chance you could help me out on this please. Thanks in advance!
I have most one questions on the frame do you need the forks are divided by a work plank do you need that wood, or is it just do you can have them separtation for it? And if you could send me the dimensions PLEASE Thank You Judy
I should have mention I am making the bike for a pastor birthday she is 70 yrs old and she want a bike and I have to have it next Fri.
just curious if you know where I can order one of these would love to see if I could get a Victory CC done for my husband