I am new to cake decorating, and am trying my hand at my first fondant cake! How exciting. I've been doing a lot of research online, to learn how to work with fondant, but I am having a hard time figuring out how much I will need. The cake (a robot for my son's bday) is essentially 4 separate parts wrapped in fondant individually, then pieced together. (1) 8x8x8 cube, (1) 4x4x4 cube, (2) 2x2x8 rectangles. According to my rough calcs, from the online guides, I think I need approx 130 oz. Wow! That means I will need to buy two 5lb tubs. This seems like A LOT. Are my calcs right?

Also, am I rolling to 1/4" thick? It seems like I will have to get a super long fondant rolling pin to handle the piece required for the large cube. I know you can buy ring guides...should I consider using those, and how do you work with them on such a large piece if fondant?

I am preparing to do my "test cake" next week, so any help is greatly appreciated.

Thank you!!!
LINDA
I'm not the greatest when it comes to calculating how much fondant you will need. But I do have a suggestion on the 8x8x8 cube. I wouldn't try to cover the cube with one piece of fondant. Especially if you are new to fondant. I would cut 8" squares and cover each side and top separately. If you do this you may want to let them sit after rolling a bit so they don't stretch too much when you go to put them on the cake. I would also drape the sections over my rolling pin when carrying to the cake. Hope that makes sense.

I usually roll my fondant around 1/4" thick, maybe a little thinner. I've tried those ring things, but I didn't like them. They got in the way.

Also, I've never purchased fondant, I've always made my own mmf. If I had to guess, I'd probably say 2, maybe 3 batches.
I agree with debbief. The cube would be easier to cover in squares. You'd get cleaner edges that way.

My fondant is not 1/4" at all. I go a lot thinner. But I also use marshmallow fondant (mmf) and I'm not sure if that makes a difference. You ought to look into mmfit's easy to make at home (not to mention a LOT cheaper). Plus? It tastes like candy!
Quote:
Originally Posted by thecakecow

I agree with debbief. The cube would be easier to cover in squares. You'd get cleaner edges that way.

My fondant is not 1/4" at all. I go a lot thinner. But I also use marshmallow fondant (mmf) and I'm not sure if that makes a difference. You ought to look into mmfit's easy to make at home (not to mention a LOT cheaper). Plus? It tastes like candy!



You're right thecakecow, 1/4" is pretty thick. I guess I just roll until it feels "workable". haha that's not very helpful
Just an FYI,

I've never done this before, so I don't know if this would happen to you.... But, on an episode of The Ace of Cakes, they tried to cover a small building and a 6 or 8 inch high boat in sections. Well, the sides started slipping down on both cakes because fondant was too soft and couldn't stand on it's own. So, for the boat, they had to take off the fondant and then cover it again with one large piece. And, for the building, they had to take off the fondant, and put some modeling chocolate on all 4 sides and then put the fondant in sections over that.

Tammy

edited to add: I came up with around 80oz of fondant needed to cover the cake. Hopefully, someone else will chime in to either confirm or give their own estimate of what you will need.
80 oz, Tammy? thanks!

boy, that's a far cry from my calc of 130 oz! anyone else have any feedback on the quantity.
i need to order by tomorrow so i will have it in time to practice on my test cake!

and thanks again for all the great ideas everyone. . . so helpful!
LINDA
I didn't even think about the fondant slipping. Hmmm, I've actually covered several cakes with fondant panels. Maybe because I let the pieces sit for awhile and stiffen a little. But I didn't have any problems at all. I did a Twighlight castle cake and shoebox cake like that. I also covered an ironman cake with several separate panels. You can look at them in my gallery to get an idea. Just make sure your icing isn't crusted so the fondant has something to stick to. Maybe even give it a little mist if it seems dry. Just don't get it "wet", that will cause a whole new set of problems.
Wilton has a great page that shows you roughly how much fondant you'll need for almost every size/shape of cake http://www.wilton.com/decorating/fondant/fondant-amounts-to-cover-cakes.cfm

I always make a little extra than what it calls for just in case - I would rather have too much than not enough! Hope that helps
just wanted to share the final product of all my hard work. . . the cake for my son's first birthday was a great success. thanks to everyone for the tips and advice. i stepped way outside my comfort zone on this one. . .a baker, i am not. and this was my first time ever using fondant! !! the cake is not perfect, but in the end, i couldn't have been more pleased.

....plus, i think i might have caught the cake decorating bug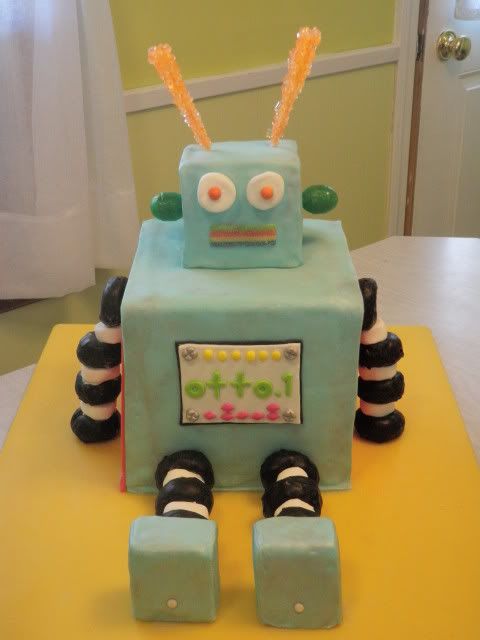 Well, obviously this cake was done before I got to read all the questions and you figured things out and did a terrific job. I am sure he loved it. I don't know of a perfect cake yet. Mine are still a long ways away from that and I am always learning something, but it is very easy to catch the decorating bug when you do a project like this. I commend you heartily for trying something that big when you have no more experience than you did.

I don't know how you ended up doing the cake and the fondant, but I wanted to let you know that I have learned a lot about fondant and all that is involved in the last 3 years and I do not believe that I would have tackled that big a project cake. Kudos to you girl!! I also wanted to tell you that I have learned that there are a lot of decorators out there that use pvc pipe cut to certain lengths for rolling pins when they have to use wider rolling pins. How thick did you roll your fondant? Did you do it by each side or one big piece? how many oz of fondant did it take over all? Did you try the mmf? Just curious about all of the results. Thanks.
thanks for all the kind words, jules! i had done 3 test cakes, prior to this (smaller versions just to figure out how to work with the fondant) with the 3rd one being a dry-run of the robot's body. it's interesting how with the first test cake, i started rolling out my fondant pretty thick (thicker than 1/8") and by the final test cake it was much thinner. basically -- the thicker fondant was too heavy, and too chewy and the corners got kind of "cracky". i just didn't like working with it, so by the time i made the final robot cake, i was rolling it thinner than 1/8".

i did the robot body in 3 pieces. . .one long piece to cover front, top, back, and two pieces in a contrasting color to cover each side. now, i should mention that when i draped the longer piece to cover the front/top/back, the front tore halfway off! my heart stopped and i just told myself, "pretend that did not happen", as i quickly grabbed the vegetable shortening and started massaging the heck out of it! i am amazed at how i was able to fuse it back together, and the next day . . you could not even tell that it had tore off! this fondant is an interesting material to work with! i have not used mmf. for this cake, i used satin ice fondant. i got the pre-coloured blue, and i dyed the red, black and green (for the "Otto") myself. i used about half of a 5 lb tub for the blue -- but i had rolled out a large overage that got scrapped. personally, i had the hardest time rolling into a shape that i wanted.. . that was one of my biggest challenges. so i would always just throw down way more than i needed, and then just trim, trim, trim! and the red sides probably took a fistfull of fondant each


incidentally -- the one thing i feel "guilty" about, is using storebought cake. any thoughts on this? i feel like i cheated.
but i KNOW that i am not a baker, and i know that if i made homemade cake, it would have been more work, it would not taste as good, and it might have not been firm enough. i found the perfect boxed cake concoction (D.H. french vanilla w/ box of pudding added) that produces a super moist cake, that is firm and not "crumbly", and can hold up to fondant.
Very cool robot, Skullygirl!! I'm still a bit of a newbie when it comes to working with fondant and haven't tried making my own mmf as yet - soon will though.

I just wanted to say I know what you mean about feeling like you've cheated if using box cake. I made a Darth Vader a little while ago and while I was making it I had my mum staying with me and she suggested just using a box cake thinking it would make things easier for me. I didn't want to turn down her suggestion but in my gut felt that it would not be strong enough to handle all the fondant required and in the end I was right - it was a nice, moist, chocolatey cake but I now know my gorgeous Guinness scratch cake would've been the better choice in terms of holding up to carving etc.

I think, though, that if you KNOW you're not a baker then there is absolutely nothing wrong with using box cakes. You came up with a gorgeously creative cake for your son and I'm sure he absolutely loved it! It's so cute!