hubby wants me to make a cake for his coworkers. He wants it to have something to do with a nuclear power plant.... Besides a cooling tower which is the concave towers you think of when you think nuclear plant... Its a decent idea but its kinda boring... Any suggestions
A barrel of nuclear waste maybe? That's the first thing that comes to my mind when I hear the word nuclear.
Here in Nebraska, you could make an Island - the Missouri River is flowing completely around the Fort Calhoun plant! That makes for an interesting walk into work!
On the serious side, I think the atomic energy idea could be fun! How about a 3-D cake: ball cake for the nucleus and then figure out some kind of rings - maybe gumpaste?
Hmm I might have to think that one up... I'm crossing the hubby wants a cake when I finish my 2 orders that just came in today lol... I'll post pics when I come up with something
You can make a Homer Simpsons at work or you can make a nuclear symbol (yellow and black). I saw this cake made in form of a nuclear explosion mushroom, but I dont think its a good idea.
Yeah I think I'm gonna shy away from the mushroom cloud cake... Doesn't really express the right idea being sent to aa nuclear plant lol... Especially with all the stuff with japan
Just some random thoughts...
Since you don't go to work with him every day maybe you could ask him for a little more input on what he's picturing, what he and his co-workers do specifically every day. Without doing homer simpson, you could do a control desk with lots of gauges. I thought of the atom part as well - is there a diagram of an atomic reaction you could replicate? Maybe there's some kind of inside joke about what they do there that, or what it's like working there that you could focus on. HTH.
Unfortunately my hubby sits at w computer all day writing work packages... That's the extent of what I know he does... Could do a computer but idk... I got some time to think about it I guess...
A little off topic. Did anyone see Cake Wrecks on August 4? It was 2 cooling towers with hearts coming out of them. It really was not a wreck just odd with the hearts and was in the general display case. Now on topic I like the Homer Simpson idea.
Maybe something that glows in the dark?? J/K Sorry, I couldn't resist. Im sure someone on CC can help you come up with something. Good Luck!
I'd do a couple of yellow rusty barrels knocked over and spilling radioactive waste. Mix green in piping gel for the waste... then make a special cove that doesn't touch the cake. Get a few non-toxic glow sticks and activate them, cut open and fill the cove(s).

I used to do industrial inspection and used Iridium 192 for x-rays. Google "Iridium 192 camera" and look at some images of those. They would make a very neat and interesting cake. Add a gieger counter for fun if you need!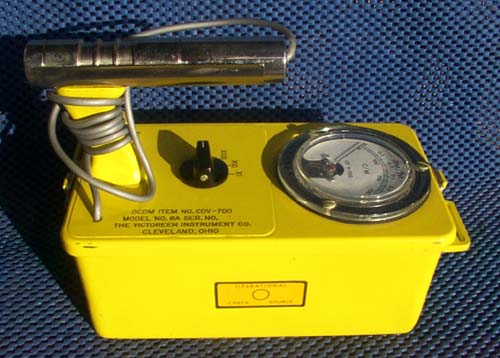 How about a stack of papers with some pens or pencils nearby? You could try to model him or a well known person from the department sitting on top of the papers... Trying to think of ideas that won't get him kicked off of site or frowned upon to much... Its hard to think of things in such a regulated industry... Maybe paperwork wrapped up in red tape?
If his packages do with chemistry, how about a mad scientist in a lab coat, like Phinneas & Ferb's Doc Doofenshmirtz (not sure of the spelling)? Maybe a beaker or test tube cake? If he deals more with construction, how about a hard hat? Engineering - maybe a steampunk kind of theme with lots of gear or the gieger counters, etc... If he works with storage, the spent fuel pools are a beautiful shade of blue.
Y'all are awesome with ideas and I really appreciate it... Hubby will be working here for a long time so I'll probably end up using most of these over the course of my cake career. Not to mention i've already had a request for another kind of nuclear cake. (2 of the largest employers in my area are the nuclear power plant and a govt site with a history in the nuclear industry) Hubs is an electrical work planner and I had thought about a computer but he was insistent on something nuclear lol. I think hes trying to audition me for the company picnic next year with the way he's talking about a cake that looks like the plant.. And as much as I enjoy buddy's work, I am no cake boss haha.... I mean it could be done, but I dont have the facilities to do a cake that large lol. But I guess I should take it as a compliment that hubby believes so much in my talents this early in my career lol...