I have a cake I have to do that is like this one, with the monogrammed top tier. Does anyone know how i would do this? would you recommend buttercream, royal, or fondant? would i use a stencil?
any help would be awesome!!!!


Also, on the flower, does this look edible or a silk flower? and if its edible, can anyone give me any input on what kind of flower it is and how you make it? ive made a few flowers but nothing like this...

THANKS AGAIN!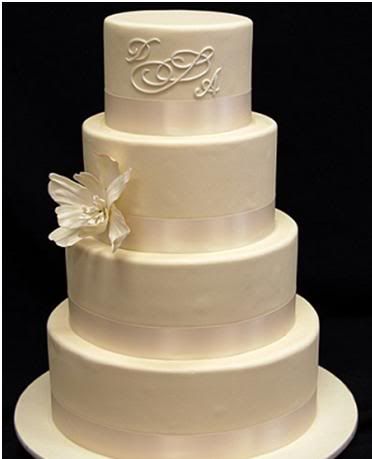 Looks like a gumpaste flower to me though I don't know what kind. I think the monogram looks like excellent piping skills with royal icing.
Beautiful cake- not one I'd like to attempt as there is so much 'white' to show any little flaws! I need more 'stuff' to cover up the boo boos


But yes I'd agree that it looks like top notch royal icing piped, and gumpaste flower.
Same here looks like the monogram has been piped directly onto the cake. You can trace a design onto tracing paper first then scribe it onto the cake so you have a design to go over and as for the flower to me it looks gumpaste and a "fantasy" flower and the leaves look like they have used lily cutters and embossed them and the centre has some plain stamens. You could always use cotton used for sewing wrapped around your finger on a loop about 30 times then when you take it off tie a loop tight in the middle then spread them and to give a fluffy edge you can rub the tips over some sand paper. Have fun and hope it is helpful. Amanda x
tori- thanks! i think im going to go with that method because it sounds easiest & most "forgiving" as you said
that blog is fantastic, what a great way to do a monogram, thanks for sharing!!