Hi everyone,

I was thinking of trying to make the modeling chocolate (the melts w/light corn syrup) and using it to make flowers for a lei.

If I roll out the modeling chocolate and use a flower cutter can I then put it on a former to get a curved shape? Can I use the ball tool to shape it a bit?

Will it 'harden' and retain it's shape?

Also - if I do them in white could I then use the coloring dusts on them?

I'd hate to make the chocolate and not be able to achieve what I'm trying to do. If it's not possible I would do in gumpaste.

Thank you for your help!
Trish
I love using chocolate for molding and sculpting! To make it set, give it a quick pop in the freezer! It will NOT hold up in heat...so keep it at room temp. I would not fridge the chocolate either as it will form condensation upon coming back to room temp, and chocolate doesn't like moisture! Other than that, have fun playing in the yummy chocolate! Oh, and not sure about the dusts, I would assume they would work because its a powder, not a liquid, but maybe someone else with experience on that will chime in and give ya a good answer
HTH!
Quote:
Originally Posted by t4beatles

Hi everyone,

I was thinking of trying to make the modeling chocolate (the melts w/light corn syrup) and using it to make flowers for a lei.

If I roll out the modeling chocolate and use a flower cutter can I then put it on a former to get a curved shape? Can I use the ball tool to shape it a bit?

Will it 'harden' and retain it's shape?

Also - if I do them in white could I then use the coloring dusts on them?

I'd hate to make the chocolate and not be able to achieve what I'm trying to do. If it's not possible I would do in gumpaste.

Thank you for your help!
Trish



Yes, to all of the above.

The key is working in a somewhat cool environment and knowing to put the modeling chocolate item DOWN when it starts to get soft.

After you roll it out & cut it out, sit it aside for awhile before you soften the edges with the ball tool.

These weren't dusted--I used colored modeling chocolate-- but everything else was done as you describe.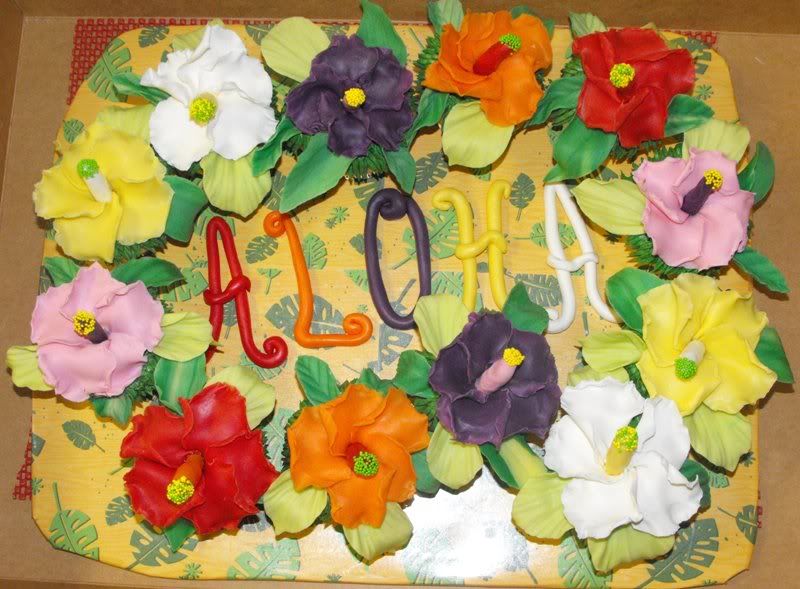 Rae
Great! Thank you both for your answers - I will be trying this tomorrow!


Rae - your flowers are so pretty!!!