A few months ago I posted a tutorial on basic homemade gummy treats on my website:

http://kimberlychapman.com/crafts/cakes/gummytutorial.html

It's so easy, my five year old is doing it in the photos.

But gummy has other advanced applications too, and I've been running lots of experiments with those, testing to see what works, what doesn't, what tools suit what purpose best, etc. For instance, at Capital Confectioners' Day of Sharing here in Austin last week, I did a demo on gummy techniques and someone asked if one could do the cupcake cups using two silicon cups instead of just turning the gummy in one. That was a really good question, so I ran some experiments. The results are here: http://www.eat-the-evidence.com/2011/07/17/gummy-experiments-cupcake-cups/

If you'd like to follow more experiments as they progress, just keep an eye on this category on my blog: http://www.eat-the-evidence.com/category/gummy/

And if you happen to be in the Austin area, I'll be teaching advanced gummy techniques in a class on July 24: http://thebigcakecalendar.com/index.php/registration/?cgroup=JULY As far as I'm aware, that's probably the first-ever class on gummy as applied to cake decorating, so if you want in on the ground floor of this new technique, sign up while spots are still open. All proceeds benefit Capital Confectioners (in other words, I'm not getting paid, and in fact am donating materials as well as time).

Here are some photos of some of the things I've made with gummy. As you can see, this goes well beyond bears and worms!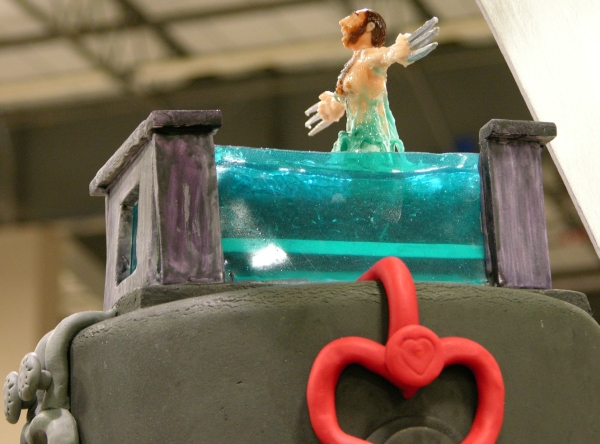 Thanks so much for this! I'm glad to hear your Day of Sharing was such a success and I hope your class on the 24th will be as well. Love these gummy things. It seems like there's so much you can do with them! I have about 85 million silicon, candy and gelatin molds, so I guess the sky's the limit!
Thanks! Definitely use it as an excuse to play with your old candy molds!

Looks like my last photo didn't work since my site's blocking hotlinking...I moved it to another directory so here it is:




Incidentally that's the one that had Mike McCarey, Nick Lodge, Lauren Kitchens, and the other judges wondering what the heck that stuff was at the 2011 Austin cake show. Muahahahaha.
Oh, that is SO cool! One of these years I'm going to make it to the Austin Cake Show. I have a friend, Lourdes Reyes, who goes pretty often. Austin is one of my favorite places on Earth and now cake decorating is my favorite activity. I can't wait for a chance to link the two up.
Details aren't finalized but I've heard a rumour that Lourdes will be teaching something new and extremely awesome at the 2012 show. So awesome that we volunteers who never get to take classes because we're running the show are all seething with envy for those who will get to take the class!
What are the dates? I'll put it on my calendar now and start saving my pennies!
Should always be the last weekend of February, but confirmation will appear when things are definitely booked at http://thattakesthecake.org/
Hello ,
I am wondering if there is a way to create the gummy decorations without using Jello gelatin? I live in Switzerland and it is extremely difficult to find this. Also I
would like to create clear decorations. I would use Loriann liquid candy flavorings to give them some taste.
Thank you in advance for your reply.
Check out http://blog.confectioneryhouse.com/2013/09/gummy-gems/
I'm a huge fan of gummys after finding their recipe. I made a ton last night and I am looking for more and more ideas. My kids loved this recipe and they use great lakes with their recipe not jello which I found made the gummy stiffer and clearer. I bought all the products on their website www.confectioneryhouse.com
I asked them how they got them so clear and its a matter of skimming off the foam.
I've made eyeballs with their eyeball tutorial, gems, and all sorts of things lol.