I am pretty new to fondant and very new to characters. I am making a parrot to sit on top of my cake. I have made the body and wings, but I'm not sure how to make the wings stick to the body.
I made the body out of RKT and covered it in 50/50 fondant/gumpaste mixture. I then made the multicolored wings and stuck the colors together with some water (which didn't hold it together) and then toothpicks. So now I have these wings and I'm not sure how to get them to stick to the parrot body and stay securely.
I'm attempting to attach a pic, but not having much luck.
Any suggestions would be helpful!
Thanks,
Marla
I would use royal icing which dries rock hard. You just need to find a way to prop the wings in place while the royal dries.
Yep, royal icing should work well, or you can also try melted chocolate.
Perfect! I will give it a try. I haven't used royal icing before, so I'm off to find a recipe unless anyone has a convenient one to share!
Thanks!
Marla
Quote:
Originally Posted by ohmeohmommy

I'm attempting to attach a pic, but not having much luck.



If you want a photo to show up in your post, here's how:

First upload the photo into an online photo site like Photobucket (getting a photobucket account is easy and FREE) then just copy the photo's image code (IMG Code) from photobucket and paste it into your post. Then when you hit 'submit comment' the photo will display in the thread. Easy.

Photobucket is here: http://photobucket.com/

I'm pretty sure you can also use Flickr like this too - just look for the image code (IMG code) and copy and paste it.



Make sure you're not clicking on the CC 'Img' (Insert image) button at all. You just want the IMG code for your photo...copy it and paste it into your post, making sure you have a space either side of it (any text or punctuation next to the IMG code not separated by a space will prevent it working.) When you paste the IMG code you will just see the code, until you click on 'submit' and then the photo will display in your post.

Here's a couple pics to show what I mean (hopefully they're clear, I don't know how to do a screen grab so I had to use my camera).



This is in Photobucket. Note the 'Share this photo' box to the right of your photo. You need the 'IMG code' which is the last item on that little list there. To copy the IMG code, just click once on it...the IMG code space will then turn yellow and show 'copied', like you see here: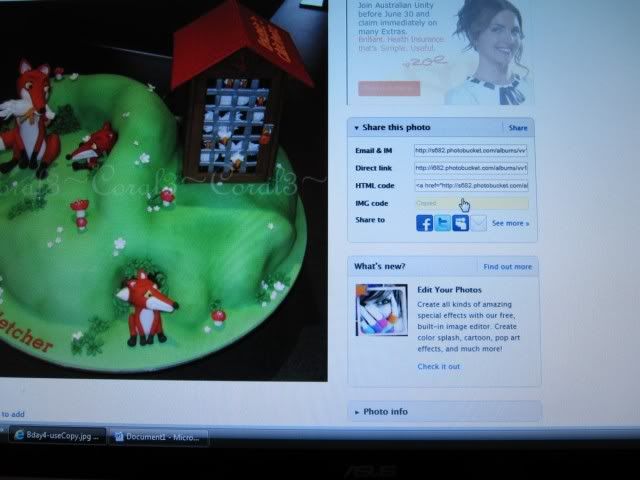 Go back to Cake Central where you're typing your post/reply and on a new line hold down the control button on your keyboard (Ctrl) and press 'V' which will paste it.

Put the IMG code on its own line without any text or punctuation up against it. Click 'Submit' to post your reply and the photo should then show up in the thread
Lets see if I am a good student!




Lookie there! I did it! I haven't made my royal icing yet to fix the problem. I'll see if I can get it finished tonight!

Thanks! Everyone is so helpful to us newbies!!!

Marla