Hi, I'm new to the boards and I need some help! I've looked at tons of tutorials online but I could use some personal advice.

So, my boyfriend's birthday is coming up in two weeks and I wanted to bake him a fancy cake. Not too fancy, just not from a box.

I love baking and I thought that with patience and by going slowly it would turn out ok. I bought some tools and I was all set to go.
So I used
http://cakecentral.com/recipes/16423/creamy-firm-strawberry-cream-cheese-filling-perfected (which is delicious by the way)

and then I used
http://cakecentral.com/recipes/15856/cream-cheese-pound-cakethis
(which was also wonderful!)

I made butter cream and purchased fondant and ingredients to practice a bit before his birthday. The cake was...a disaster.


It sunk after being taken out of the oven AND the top was crusty. It tasted fabulous, but this was supposed to be soft and covered in fondant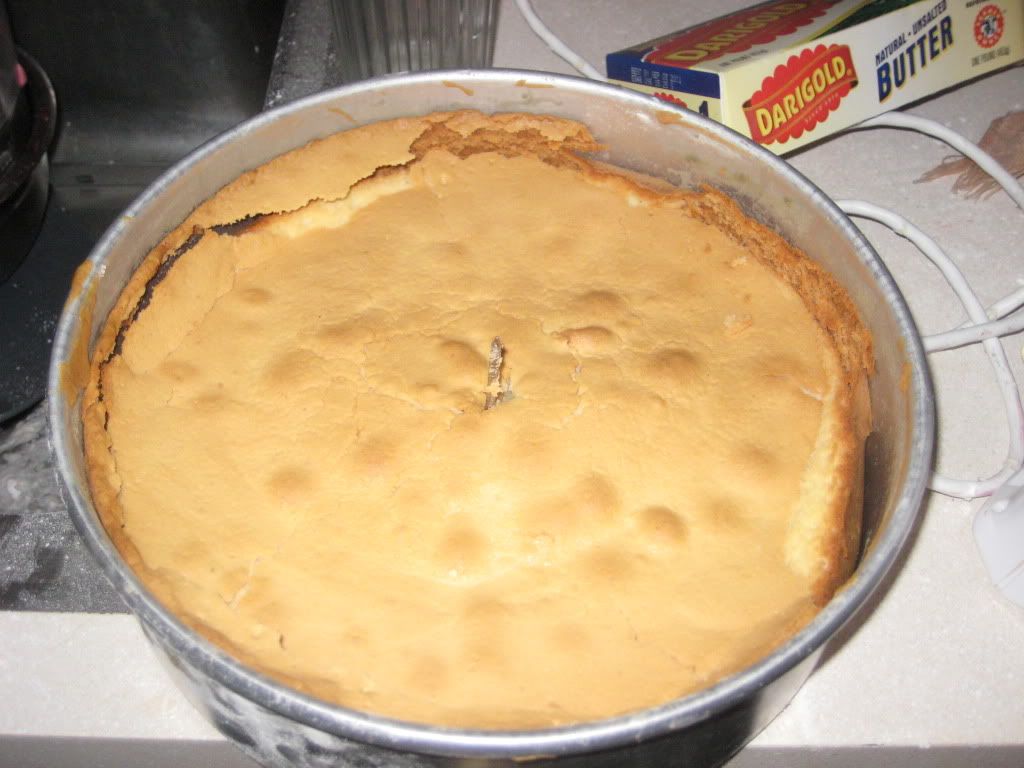 Then I tried to cut it in half and seriously screwed that up. The top ended up in about 6 pieces that I sort of just placed on the strawberry filling. THEN the strawberry filling melted! Oh dear lord.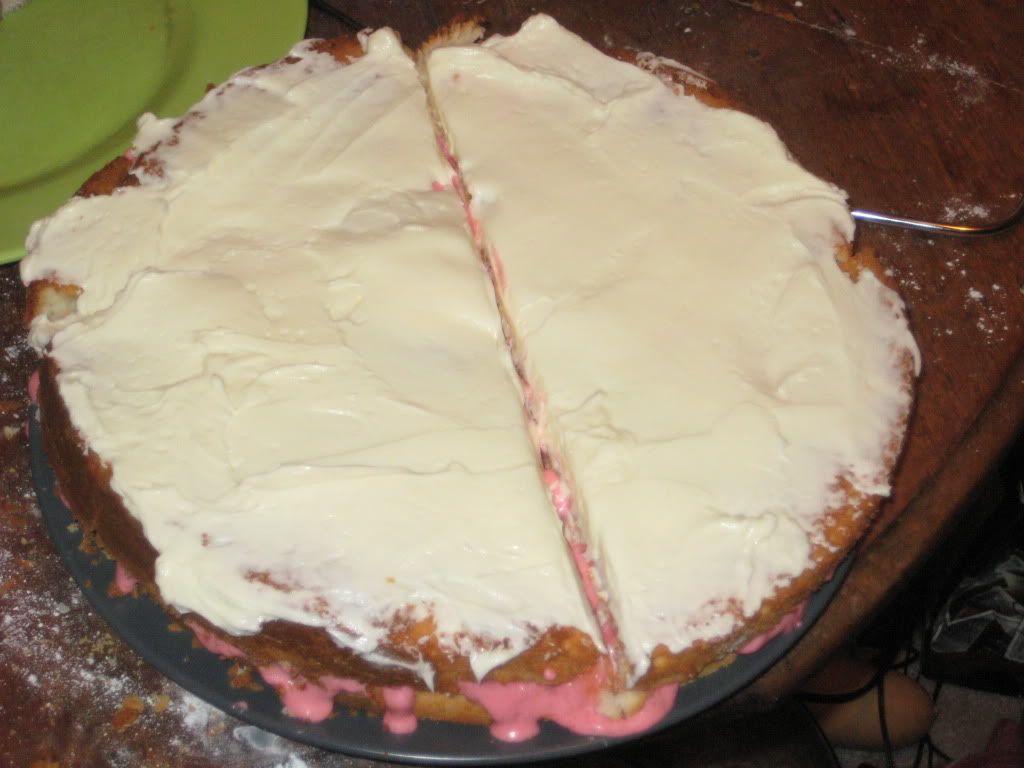 On a good note the the underside was beautiful.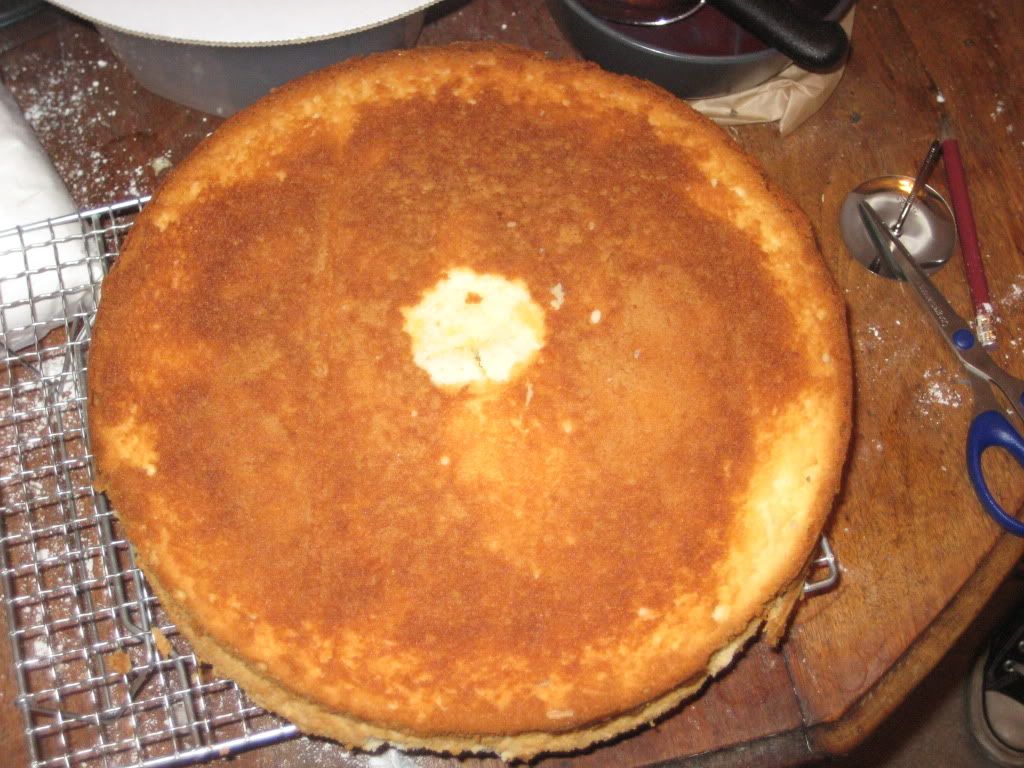 The little hole in the middle is from using the flower nail trick.

I have to get this down by May 6th! I don't care if I have to bake a cake everyday!!
Can anyone give me some advice? I would greatly appreciate it.
I'm not really sure what happened here...the only thing I could think is maybe you cooked it a little too long? I know when my layers stay in the over longer than they should they are pulling away from the sides like that!
Hi and Welcome to CC, tunacupcakes.


Everything you need to know to make, decorate and assemble tiered/stacked/layer cakes:

http://cakecentral.com/cake-decorating-ftopict-605188-.html

CC member recommended scratch cake recipes:

http://cakecentral.com/cake-decorating-ftopict-440803-.html

HTH
Wow... lots of questions.

"fancy" cake? Don't want to start a war, but some great extender recipe box cakes are great, and more "forgiving" for new bakers. I like them as well as scratch, even though other taste "chemicals". If you love this cake- great. If you don't try an extender recipe.

Flower nail in the cake? You only need it for the larger sizes. What size pan did you use? It may not be necessary...

Cutting cake in half? Place toothpicks half way in all the way around your cake center. Use that as a "guide" to stay straight and cut in the middle better (use a serrated knife if you have one). Slide a cookie sheet or plate in to remove top half. This works better if the cake is frozen a bit.

Do you know about icing dams? Use stiff buttercream (add extra powdered sugar if needed) and draw circle of the icing (think 1/4" wide) around the bottom half of your cake, THEN fill it with the strawberry filling. That keeps your filling IN the cake.

Crusty top? Baked too long maybe. A "cure" is watch the time, or brush on simple syrup after baking (1 part water, 1 part sugar- boiled until melted). LIGHT brush on of the syrup.

Fondant? Hmmmm. I would skip it. Fondant is a whole extra step, tastes bad, and is peeled off the cake before eating. Do you know you still frost UNDER the fondant? Fondant is just for a smooth look and surface for decorations? Applying and smoothing the fondant is frustrating until you master it.

Your buttercream looks funny. Really thin and shiny. What recipe did you use?

Good luck and happy baking!
Rita
It looks like you need a better pan spray or something from the way it tore at the top. Try baking at a lower temperature to rid yourself of the top crust. Once the cake comes out of the oven flip out and wrap in plastic and freeze to seal in moisture.Your cake is less likely to break if it is frozen. Make sure when you cut it to slide it on a sheet pan or piece of cardboard so it doesn't break when you move it. If you sprinkle it with powdered sugar the cake will slide right off when you go to put it back on the cake over your filling. Now on to the filling
Make sure you have a nice thick filling, or even just fresh berries. I like to use ganache type fillings... Before putting your filling in the cake you want to put a thick dam around the edge so you don't get any "leakage". Take your buttercream and add powdered sugar until it's so thick it's almost like fondant. Mine is so thick that I can roll it into a rope to lay around the edge instead of piping it, since it's so thick my arms would die from piping it! Anyways place that on your cake and set a cake pan or board or something flat on top of it to make sure it is level. Then fill with your filling. You want your filling to be just slightly lower then your dam. Top with next cake layer and let settle. Then frost. Hope that all makes sense, it's kind of a hodgepodge of info, lol. Good Luck! I'm sure you'll do just fine!

Oh yeah, and if you still get a crusty top, just make the top the bottom, and the bottom top, problem solved!
What size is your pan? The author of this recipe in the comments said that you must use a heat core (not flower nails) for a pan 10" or larger. Based on your pics, the cake is over baked, which is why it pulled away from the pan and has those cracks on the top. Also, for a 10" round pan, the comments say to set your oven to 325. Good luck & happy baking!
Thank you JanH for the links. I promise I did browse around the site, just not thoroughly enough.


johnson6ofus- By fancy cake I meant something not from a box that was actually decorated. I've baked lots of box cakes before and never had a problem. Usually I just slap some cream cheese frosting on and call it good. I'm generally not fond of box cake taste and can tell the difference (most of the time).
One thing I will add is that my oven is terrible! It's about 50-75 degrees off, but I have a oven thermometer. I think, but am not sure, that it fluctuates quite a bit in temperature too. It's a small 3/4 sized oven meant for studios. I hate it so much. Baking with it is near impossible, but that didn't stop me from trying.

I bought a cake leveler since I honestly can not cut straight with a knife. I thought it would make it a little easier. lol

I like your idea of sliding in a cookie sheet or something thin to get the top layer off! I've watched videos where people just grab the top and pick it up....which didn't work so well for me.

So freezing the cake should help? Or can I just let it sit for a day? One of my books says that pound cakes should be eaten that day and do not keep. But....I thought pound cakes were generally the sturdier cakes used for stacking and that sometimes people take days to decorate them.

I had no idea about the icing dam! Thank you. Makes sense to me. I'm sure the cake was still a little too warm, even though it felt pretty cool to me.

I also don't like fondant. I bought some Satin Ice and my boyfriend said he loves the taste of it. I don't think he's just being polite since he ate some right out of the container. BLEH! Smells like play-doh.

Yeah, I know why the buttercream is funny. I just don't want to admit why it's not quite right.
I originally put the buttercream on there because of the needed layer under the fondant, but I just said "forget it" with the fondant because the cake was beyond redemption.

Thank you for your help! This is what I'm the design will look like.

Thank you bakingkat! I did use a cooking spray and floured the pan...maybe not enough.


cakegirl1973- it is a 10 inch pan. I turned my oven down to 300 since it's so off. The higher the temperature the more degrees it's off! Perhaps I should just practice in a better oven. I have plans to make the actual cake in someone's oven that's much better than mine.
BTW- great that you posted photos! Everyone gets to "see" your concerns.

Hope BF is worth the work....
Do not use spray and then flour. Rub shortening around the pan, shake the flour around the pan and THEN spray with Pam. I have never had a sticking issue when doing this. You might also cut a parchment for the bottom of your pan if your cake is particularly known to be sticky. Also, when you remove your cake, immediately run a knife around your edges in case they are stuck to the pan. If they are, when the cake contracts as it cools the edges hold on and your cake 'sinks'.

I recommend freezing your cakes at least overnight before frosting. (Wrap tightly in cling wrap!) It is much easier to work with a cold cake--especially when you're not familiar with all this. When ready to frost, put a dam around the edge of your cake before putting filling in. Do a crumb coat and put the cake back in the fridge to set it up for your next layer of buttercream.
I know most people don't do this, but 'back in the day' I used to have a problem with cakes sliding or getting off center. Now I always run a single dowel (or straw) down the center of a regular layer cake just for my own piece of mind.

If you like the consistency of a box cake but don't like the 'taste', I have a wonderful secret for you...take a Betty Crocker French Vanilla box cake and add a 1/4 tsp of Cream Bouquet (it's a flavor enhancer that can be found at cake supply stores or online). No one can tell and it really is delicious! My recipe for buttercream is simple and really good with this BC cake. 2 sticks real butter softened, 1 box cream cheese softened, One 2lb package of powdered sugar. Cream together butter and cream cheese and slowly add PS. That's it! This is the cake that was most requested at the bakery I worked for.
Anyway, this is what I learned working there so I hope this and all the other suggestions from CC'ers help you on your quest! Good luck!