Hello.. i've been asked to do this cake.. I have a question.. does the justin bieber picture look like it is edible ? and if so what is the picture against to hold it up ? please help.. thankss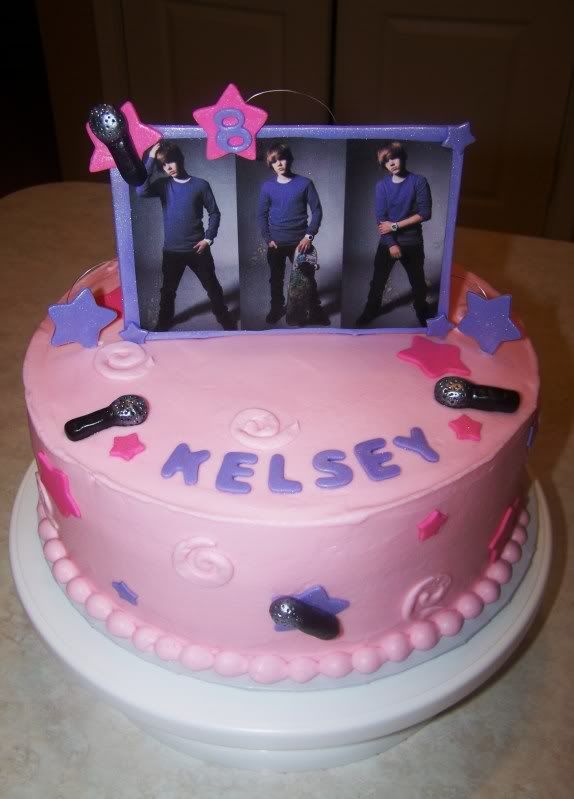 I made one similar to this about a month ago. I used an edible print out and made a "picture frame" with gumpaste. I would say make it ateast a week in advance so it can dry flat. I made mine the day before and there was a slight sag. HTH
Quote:
Originally Posted by Rainyvv

I made one similar to this about a month ago. I used an edible print out and made a "picture frame" with gumpaste. I would say make it ateast a week in advance so it can dry flat. I made mine the day before and there was a slight sag. HTH




THank you hun.. that sounds like great idea.. may i ask if you use a certain website to order your edible imaging ? if so would u be able to recommend one for me
thnkss
So sorry I really don't know of a website. I'm lucky enough to have a cake supply shop 3 minutes from my house
I get mine there. Maybe someone else will know of one.
most grocery store bakeries will sell the edible sheet for you. just take the picture in and they'll scan and print it for you
Quote:
Originally Posted by Chonte

most grocery store bakeries will sell the edible sheet for you. just take the picture in and they'll scan and print it for you



oo wow i didnt know that !! thanks i will check that out tomorrow .. thnks