Cameos are so in now, and this is a very popular applique.
They are very easy to make and look gorgeous on cakes. They are so very detailed, and you can make them out of different mediums. I wanted to share this with you.

So if you don't have a cameo at home you can just go to eBay and buy the cheapest, simplest cameos.
I have about 15 different designs and sizes. I have just regular cameos without any frames, and some with very fancy pretty frame.
I will show you the simple ones.


All I do with them is stick them on a piece of rolled out Safe D Clay. I don't cut around the cameo to make a deeper mold. The cameos should not be too thick on a cake.
Rub it down thin with Release Dit, the cameo and the Safe D Clay as well.
Mix a small amount of Silicone Spread. I use a spoon to mix it in with a toothpick that's how little you need. With a small brush, cover the cameo with the mixed Silicone making sure all small deep details are filled. Sometimes small bubbles are created, and when you are working on such small and detailed project, even the smallest bubble can ruin your mold. Imagine a small bubble on the nose. So I keep checking back and watch closely, if a bubble is forming I carefully work it away with the toothpick.
When it's still sticky to the gentle touch, but no longer stays on your fingertip, mix a small amount of Silicone Plastique. And shape it into an egg shape, flatten it out, place it on top of the cameo, and press gently, to prevent bubbles. Smooth the Plastique down on the sides to cover all the way to the bottom all around. Make this mold a thin one, it will be easier to work with.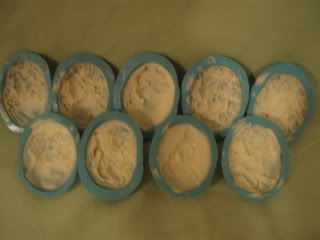 My favorite cameo is made of chocolate. It comes out so clear and sharp it looks real. I just melt white chocolate, with a small brush I paint the contour of the face to get those sharp edges, and with small piping bag I fill in all the rest of the lady with white chocolate. I tap the mold to the table gently to make sure all details are getting chocolate. The rest of the mold is filled with dark chocolate. I chill it for a few minutes in the fridge and then peel the mold off the chocolate cameo. No release agents needed!!! These look great on cupcakes and cookies too!



They even come out detailed with isomalt!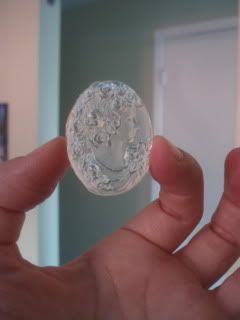 Most commonly used with fondant or gumpaste. I also use it with marzipan.
I use ivory for the face, but any lighter color will do depending on your project.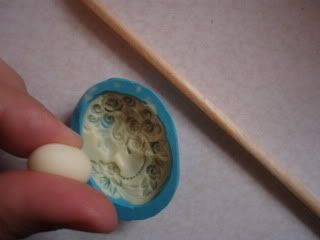 I flatten this piece out so I don't have to move it too much inside of the mold to reach every detail. If it's moved too much it can make a ghost image.


With a tool, I pull back at the contour, pay special attention to spots like chin and nose. This way the contrast of the face and background will be perfect.


If the fondant is soft this is not even a necessary step, I just damp the top with a wet brush.


Fill the mold with another color. Usually black or darker color, but I needed pink. This is the background.


Depending the material you are using you might need a little chilling time, but it comes out clean..


Just like this.


Then you can still add shimmer dusts, or pipe a frame around it onto the cake with chocolate or royal icing...this is so versatile!
Hope you like! Thanks for looking!